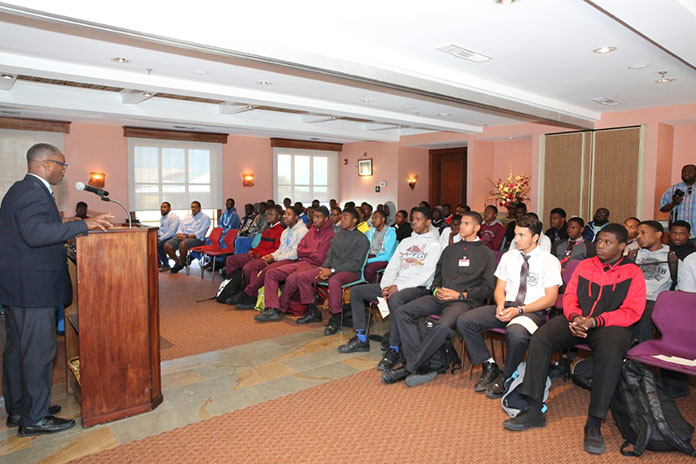 FREEPORT, Grand Bahama – Male students of public high schools in Grand Bahama were on Friday, March 23, urged to make good choices in life by Parliamentary Secretary in the Ministry of Works, Iram Lewis.
The Pride of Grand Bahama Lodge #7 hosted 11th and 12th grade young men from Eight Mile Rock, St. Georges and Sir Jack Hayward High Schools to a one-day seminar at Pelican Bay Resort, held under the theme, "The Keys to Success and Achievement."
Mr. Lewis encouraged the Free Masons to continue with their work and said, "It is your goal to reach out to the youth to try and instill both moral and ethical values; and the importance of donating time to the community.
"The importance of this mission is one not to be taken lightly because in essence you are talking about helping to build a nation."
The Parliamentary Secretary told the young men that he came from humble beginnings, of which he is very proud. Many people, he said, can tell of their stories of having to struggle to obtain a good education, particularly those whose parents themselves had limited education.
Focus on getting a good education, he encouraged, as it helps to develop your personality, provides certain standards and elevates your style of living. What is just as important, he added, is the feeling of physical, mental and social wellbeing when providing a better life. "It is through education that we are able to determine whether something is good or bad for us when 'Making the Right Choices'."
With times changing and becoming more and more lawless, Mr. Lewis said it is so important to make the right choices as it takes a long time to gain a good reputation, but can be lost in an instant. As you get older, he told the young men, their choices are based on what is valued most.
"Making the right choices has to do with discerning between the best available options. A person's destiny will be determined not by their gifts but their choices, and by their decisions."
The students were advised that they should never let anyone determine their fate, and good decisions attract good company. "I wish also to remind you that regret is the breeding ground for failure and your choices are a reflection of your values."
Sharing some personal details with the group, Mr. Lewis added that when growing up, there were no systems in place to record attendance and so for his sixth and seventh years of school, no teachers turned up. He said that with all of the distractions around, he was determined to break the mould and get a good education. He did this, he continued, by staying focused. He left Water Cay and came to Freeport. From Freeport he went to Nassau to the College of The Bahamas and from there, it was on to Tuskegee University.
Mr. Lewis closed by telling the young men that it is important for them to get a good education, as while and he and others are in government, have good jobs and are leading the nation, the young men are the ones to whom they will pass the baton.