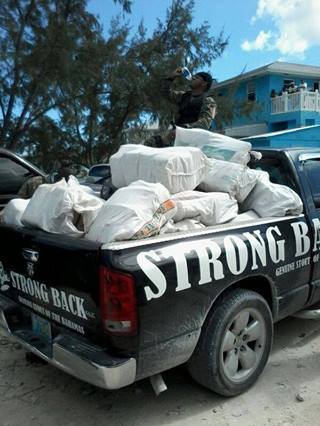 A combination of Teamwork and Excellent 'textbook' Police Work has dealt a major blow to the drug traffickers in the country, after Drug Enforcement Unit officers arrested two men ages 24 and 20 years old for possession of a large quantity of marijuana on Wednesday 23rd April 2014.
According to reports, around 2:30am, Drug Enforcement Unit Officers directed a joint drug interdiction operation in collaboration with OPBAT Partners (DEA and the Coast Guard), Exuma Police Marine Support Unit and Long Island Police, in the vicinity of Hard Bargain, Long Island, where a 42-foot white go-fast vessel was observed with two male occupants onboard. As the interdiction team approached the suspected vessel, the occupants were observed throwing bales of suspected marijuana into the water. The
two suspects were taken into custody along with 37 bales of marijuana.
The estimated street value of the drugs is $1.3 million dollars.
The suspects along with the suspected drugs were transported to New Providence.