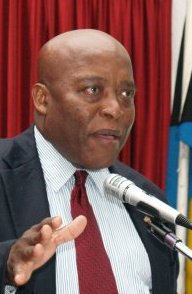 By OSWALD T. BROWN

The contests for the five House of Assembly seats in Grand Bahama are emerging as arguably the most interesting in the upcoming general election. This became quite evident on Tuesday after the fledgling Democratic National Alliance (DNA) completed its slate of 38 candidates by announcing its three final candidates for Grand Bahama.
At a press conference in Freeport, DNA Leader Branville McCartney announced the candidacies of Howard Grant Jr. to contest the Central Grand Bahama seat; Ferline Bridgewater-Thomas, to carry the DNA's banner in East Grand Bahama; and Tolonus Sands as his party's standard-bearer in Marco City.
What made those announcements so significant is the fact that both Grant and Bridgewater-Thomas are closely related to two current Free National Movement (FNM) Members of the House of Assembly who were treated very shabbily by Prime Minister Hubert Ingraham when he hand-picked his slate of candidates to contest the upcoming general election. Unquestionably, both surely have strong enough motives to do whatever they can to see to it that the FNM loses the next election.
In the case of Howard Grant Jr., his mother is Verna Grant, the current MP for Eight Mile Rock, whom Hubert Ingraham decided was not "qualified" to be renominated as a candidate. Reports are that Ingraham reached this decision because Verna Grant refused to step aside for Ingraham to nominate one of his favourite Grand Bahama females, Kay Forbes Smith, Bahamas consul general for Atlanta, for the Eight Mile Rock seat. So to spite Verna Grant, he eliminated the Eight Mile Rock constituency and reduced the number of seats in Grand Bahama from six to five.
Bridgewater-Thomas' reason for becoming a DNA candidate may not be as clearly defined as the reasons that are believed to have motivated Howard Grant Jr. to join the DNA's slate of candidates. But it is nonetheless true that Bridgewater-Thomas' brother in law is former Housing Minister Kenneth Russell, who was totally disrespected and humiliated by Ingraham when Ingraham decided to act on his decision to force both Russell and Neko Grant, the incumbent MP for Lucaya, to retire.
Ingraham demonstrated that he has no loyalty towards friends or compassion for them when he sent Deputy Prime Minister Brent Symonette, the most prominent member of the old UBP faction within the FNM, to inform Russell that he would not be renominated to run for Grand Bahama.
Knowing the history of the UPB, clearly this was the ultimate disrespect that the Prime Minister could have paid to one of his most loyal and dedicated supporters, so it's not surprising that Russell reacted the way he did after he was fired as a cabinet minister in referring to Ingraham as a "tyrant" and "a dictator."
Therefore, no matter if she is prepared to admit it or not, Bridgewater-Thomas may very well have decided to enter the political arena because she wants to avenge the poor treatment meted out of her brother-in-law.
Be that as it may, there are strong indications that the Progressive Liberal Party (PLP) will win a minimum of four seats in Grand Bahama, and possibly all five, despite Ingraham's campaign blitz to induce voters in Grand Bahama into forgetting the FNM's total neglect of Grand Bahama over the past four-plus years, resulting in tremendous stress, pain and suffering by Grand Bahamians as they struggled to maintain some semblance of their relatively comfortable lives before the FNM's destructive policies eliminated what used to be a comfortable middle class strata in Grand Bahama.
At the centre of Ingraham campaign of deception is his claim that he and Sir Jack Hayward, one of the principal owners of the Grand Bahama Port Authority (GBPA), have settled their differences and are now working together to revive Grand Bahama's economy. Making peace with Sir Jack, of course, is supposed to lull Grand Bahamians into a state of amnesia whereby they would forget that it was Ingraham's dictatorial behavior in refusing a work permit in December of 2009 for Hannes Babak, the then chairman of the GBPA, that triggered his vindictive policies towards the GBPA, resulting in the virtual destruction of Grand Bahama's economy.
Try as hard as he might, however, even to the extent of drumming up false claims that Grand Bahama's economy is on the rebound, as evidenced by his false assertion that the Our Lucaya Resort is experiencing a 75 percent occupancy rate, people who live in Grand Bahama know differently. Far too many of them know things are brutally tough and survival is a day-to-day challenge.
Voters in Grand Bahama are also aware of the fact that Ingraham has hand-picked a slate of candidates who will perpetuate his ambition to be an absolute dictator. When you consider the fact that the current five FNM Members of the House, including three who were members of the cabinet, remained absolutely silent as Ingraham waged an unrelenting war against Sir Jack and the GBPA, then it's not hard to reach the conclusion that the three "new faces" and two incumbents chosen by Ingraham as candidates for the next election will be nothing more than political doormats for Ingraham if they are elected.
Let's take Pakeisha Parker Edgecombe, for example. Unquestionably, she has a lot of explaining to do on the campaign trail, having boldly proclaimed at the event held to launch the FNM Grand Bahama candidates that she "has always been an FNM," a public admission that seriously raises questions about her professional objectivity as the "senior" news anchor of ZNS News-13 in Freeport.
One question that must now be running through the minds of her colleagues at ZNS is this: Was she the one who advised Ingraham to discontinue national broadcasts of ZNS news out of Grand Bahama? There is a body of opinion that Ingraham took this drastic step as part of his campaign to downgrade the importance of Freeport mainly to spite Sir Jack Hayward, but is it possible that Pakeisha may have been consulted by Ingraham before he made that decision? Her candidacy and public embrace of the FNM suggests that this probability cannot be ruled out.
In any case, she doesn't stand a snowball's chance in hell of winning in the West Grand Bahama and Bimini constituency against PLP incumbent Obie Wilchcombe, who has been a remarkably good representative for that area. This surely raises yet another question about why Pakeisha chose to abandon an established career as a broadcast journalist, knowing from her experience in reporting the news that Ingraham runs a virtually one-man show as leader of the FNM.
Then there are the two FNM candidates that many in Grand Bahama have compared to gunslingers in the Wild, Wild West who sold their services to the highest bidder. Knowledgeable sources say that both Peter Turnquest, FNM candidate for East Grand Bahama, and Norris Bain, FNM standard-bearer for Marco City, initially sought nominations from the PLP, with certain financial conditions attached, and it is now being speculated that the FNM's offer was more attractive. If this is true, then both of these candidates have a credibility problem as a result of their mercenary proclivity.
Of course, Neko Grant unquestionably owes the extension of his political life to Ingraham eventually deciding that he could not carry out his plan to fire both Grant and Kenneth Russell after members of the FNM Council reportedly challenged his authority to decimate the FNM's foundation in Grand Bahama so brutally.
Nonetheless, my prediction that the PLP will win a minimum of four seats, and possibly all five, in Grand Bahama is based on the unquestionable fact that the PLP is offering Grand Bahamians a superior slate of candidates. In addition to Obie Wilchcombe, those candidates are Gregory Moss, Marco City; Dr. Michael Darville, Pineridge; Tanisha Tynes, East Grand Bahama; and Julian Russell, Central Grand Bahama.
–ends–