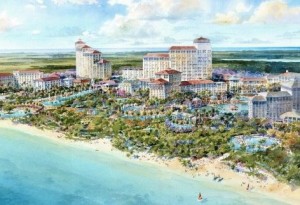 Nassau, Bahamas – The Government of The Bahamas seeks to ensure that all Bahamians have an opportunity to benefit from the Baha Mar Development, particularly those who are currently unemployed.
Accordingly, the Ministry of Labour and Social Development, in conjunction with Baha Mar, will hold a series of Town Hall Meetings to discuss training and employment opportunities at the new resort project.
The first meeting will be held at Christ the King Parish Hall, East Atlantic Drive & Pioneers Way, Grand Bahama at 7:00 pm on Monday, 6 December, 2010.
Minister of Labour and Social Development, the Honourable Dion Foulkes and Senior Vice President of Government and External Affairs at Baha Mar, Mr. Robert Sands will speak on the extensive opportunities available for Bahamians at the new Baha Mar development. The meeting will be chaired by the Deputy Director of Labour, Mr. Tyrone Gibson.
Minister Foulkes has noted: "Now that the Baha Mar development is to begin, it is essential that Bahamians the length and breadth of The Bahamas have access to training and employment opportunities at Baha Mar.