PAGING DR. SANDS /Paging Dr. Minnis – Please report to the Emergency section of the Princess Margaret Hospital – PAGING DR. SANDS /Paging Dr. Minnis….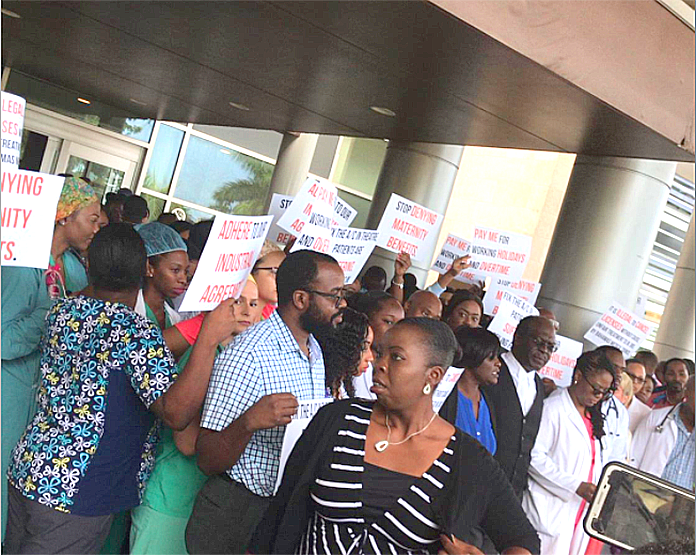 Nassau – A reliable source confirms the report that DOCTORS ARE ON STRIKE and only emergency services are available at the Princess Margaret Hospital.
Doctors had withdrawn their strike threat as the Hospital Authority had "found money" to meet their demands.
Unfortunately, the Hospitals Authority withdrew their agreement. This has led to today's strike.
No doubt, the public finances are in a mess. The deficits continue to grow and Prime Minister Minnis continues to travel with big delegations, this time even taking Shonel Ferguson, MP- Fox Hill, along with him. Food prices are on the rise and gas prices which are at an all time low in the world have skyrocketed in the Bahamas. And to top all this off Peter Turnquest can't tell us why he needs another $415Million Dollars to fund the budget!
The government continues to make really bad spending decisions.
Recently the government just got $41m in dormant funds said to be put aside for hurricane relief. Now the government says something different on those funds
In a statement issued this afternoon it read:
"This is the official statement from CPSA Conclusion from the Emergency Meeting today is that we have started withdrawal of services: No Clinics, No Elective Surgery, No Ward Rounds, No Admissions/Discharges. We are only responding to Emergencies! No patients life shall be put at risk but there will be some level of discomfort for all. This action shall continue until advised by the CPSA execs based on the appropriate response from the PHA. The BDU has pledged their full support and we are advising that they attend work but do not compromise themselves in performing task with out supervision. This is a serious matter stay tuned for updates!"
The next match coming soon.