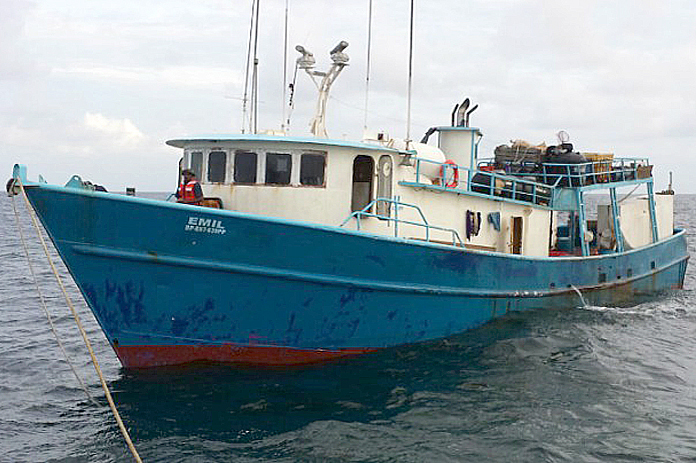 Nassau, Bahamas – Her Majesty's Bahamian Ship (HMBS) Lignum Vitae, under the command of Senior Lieutenant Bertram Bowleg, apprehended a 60-foot Dominican fishing vessel while on routine patrol in the southern Bahamas around7:30 p.m.Wednesday evening.
HMBS Lignum Vitae intercepted and boarded the fishing vessel near Cay Lobos on the Great Bahama Bank on Wednesday evening. Upon searching the steel-hulled vessel, the Defence Force boarding team found eleven fishermen from the Dominican Republic on board along with a large quantity of scale fish and lobsters.
The Dominican vessel was initially sighted days earlier by a Defence Force surveillance aircraft under the Command of Lieutenant Marcellinus Rolle on patrol in the southern Bahamas.
Captain Tellis Bethel, the Acting Commander Defence Force commended the collective efforts of the Defence Force's Commander Operations, Lieutenant Commander Clarence Dean, the Squadron Commanding Officer, Lieutenant Commander Whitfield Neely and the Operations Officer, Senior Lieutenant William Sturrup, for devising an effective strategy to capture the poachers.
He also praised the hard working and dedicated Commanding Officers, Officers and Marines of HMBS Lignum Vitae, as well as all other ships' companies for conducting monthly patrol rotations in a committed effort to keep Bahamian waters free of illegal fishing and other illicit activities.
"The capture of the Dominican vessel was the result of an extended anti-poaching program for the protection of Bahamian fishermen and the preservation of vital marine resources," said Captain Bethel. The foreign vessel was sighted days earlier by the Defence Force aircraft.
HMBS Lignum Vitae was acquired last year under the Government-sanctioned Sandy Bottom Project in support of the Defence Force's decentralization program. The decentralization program involves the establishing bases at strategic locations for the purpose of maintaining a continuous Defence Force presence throughout The Bahamas.
The Royal Bahamas Defence Force remains committed to Guarding Our Heritage.