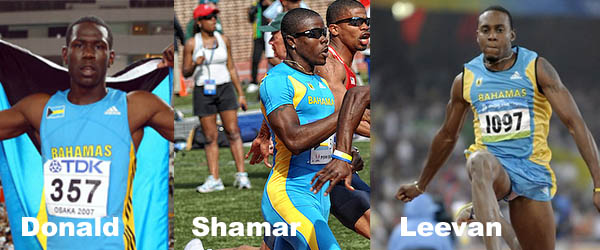 BERLIN, Germany — Three Bahamian male track and field athletes will not return home from Germany with medals but did find themselves on the wrong side of the law. Associated Press is reporting six track and field athletes from the world championships were arrested after a scuffle at a Berlin disco early today [Sunday].
Bahamas Press is now confirming that the Bahamian athletes arrested are Donald Thomas, Leevan Sands and Shamar Sands.
All six were being investigated on possible charges of disturbing the peace and causing bodily harm after the incident at the Havanna Disco, police said.
The athletes were not identified by name under German privacy laws, however, BP has eyes, ears and contacts all over the world. Police said in a statement the men arrested were a 26-year-old American man, three men from the Bahamas aged 24, 25 and 28, and two from Cuba aged 21 and 24.
Police spokesman Frank Millert said the men all spent the night in jail, but were being released Sunday.
The incident occurred just before 4 a.m. Sunday as the athletes, who were part of a group of 20 people, tried to get into the overflowing nightclub, police said.
Words were exchanged with doormen after the group was told to stay in a waiting area, police said. The confrontation escalated when the doormen then tried to force the group to leave.
Bottles were thrown at the club employees, injuring a 30-year-old and a 36-year-old in the head, and a 27-year-old in the face, police said. All three refused medical treatment.
Once police were called, they arrested the three athletes from The Bahamas and the American. The two Cubans were arrested slightly later after more bottles were thrown, police said.
Under the German system, Millert said, prosecutors would review the investigation in the coming week and decide whether to press charges. Disturbing the peace can be punished with as little as a fine, but the charge of causing bodily harm carries a minimum 3-month prison sentence.