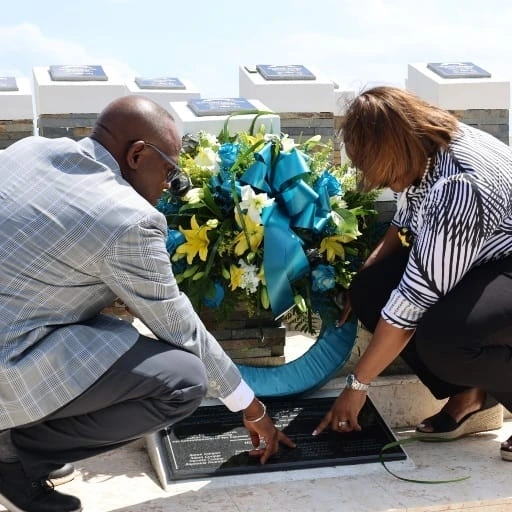 EAST END, Grand Bahama – On the fourth anniversary of the passage of Hurricane Dorian, four Wreath Laying Ceremonies were held on Saturday, September 2, 2023 in memorial to the victims.
Deputy Prime Minister and Minister of Tourism, Investments and Aviation, the Hon. Chester Cooper and Mrs. Cecilia Cooper; Minister for Grand Bahama the Hon. Ginger Moxey; President of the Senate, the Hon. Lashell Adderley and senators; clergy, senior government officials; and family members were all present to lay wreaths and flowers at the Hurricane Dorian Monument, Sir Jack Hayward Bridge; Hurricane Dorian Monument in Free Town, Missile Base Corner; Hurricane Dorian Monument in High Rock; and the Hurricane Dorian Monument in McClean's Town.
With a gentle breeze, at each monument the wreath laying ceremony began with a prayer, followed by the laying of wreaths and flowers and greeting family members.
Following the ceremony in McClean's Town, Deputy Prime Minister Cooper described the occasion as "solemn and difficult." He said, "I hope it is becoming easier for the families to cope with their losses."
It was important, continued the Deputy Prime Minister, to bring support, condolences, and prayers from not only Prime Minister, the Hon Philip Davis, but from other Cabinet colleagues and the people of The Bahamas as well.
Prime Minister Davis has expressed the same sentiments to the people of Abaco, the other island devastated by Hurricane Dorian in 2019.
The Deputy Prime Minister said, "We have not forgotten their grief and struggles" and added, "we will never forget the people who suffered, and the Government of The Bahamas will continue to provide whatever support within our powers that we can."