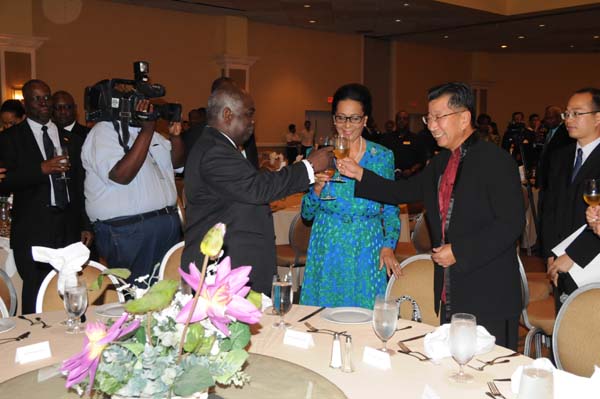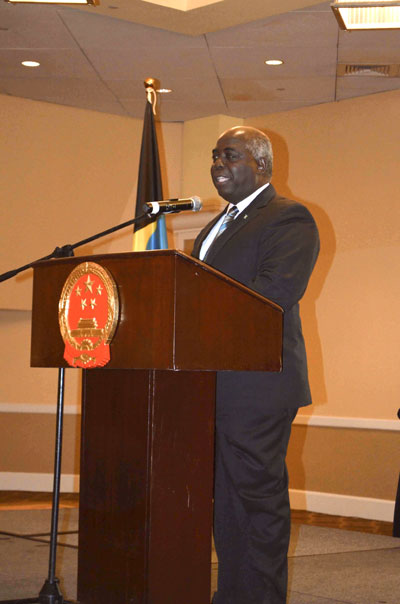 NASSAU, The Bahamas – On the occasion marking the 65th Anniversary of the Founding of the People's Republic of China on September 28 at Melia Nassau Beach Resort, Deputy Prime Minister and Acting Minister of Foreign Affairs the Hon. Philip Davis outlined the flow of diplomatic relations between The Bahamas and China since 1997 that has comprised a fostering of goodwill and friendship.
The Deputy Prime Minister said: "Ambassador, since the establishment of diplomatic relations between China and The Bahamas in 1997, there has been a constant flow of friendly activities between us in all spheres, political, cultural, medical, economic and educational.
"Perhaps one of the most significant developments of friendly relations between our two countries this year has been the lifting of all barriers to legal travel by our two peoples."
DPM Davis said that back in February 2014, both The Bahamas and China signed a visa wa
iver agreement, allowing travel without visas for up to thirty days.
"This landmark and trend-setting event, not only for The Bahamas, but also for the entire Caribbean, opens the way for easier travel of visitors and business persons between our two countries," which he said facilitated the strategy to ensure that the Baha Mar resort will experience no impediments, as far as travel is concerned.
"In this vein, I should add that as we speak, both sides are reviewing an Air Services Agreement, which is a prerequisite for seamless one-stop travel between Nassau and key cities in China, that will further ensure legal and hassle-free migratory flows between our two countries."
DPM Davis also spoke even further on the plans for tourism links.
"The Ministry of Tourism is currently investigating the modalities for the imminent establishment of a Tourism Office in Beijing to promote, in an aggressive and effective manner, the wide range of leisure experiences that are offered here in The Bahamas for Chinese tourists, not only in Nassau and Grand Bahama but also in our many Family Islands," said DPM Davis.
"Just this year alone, we have seen the granting of some 19 scholarships by China to Bahamian students to study a wide range of disciplines, which would empower these young people to make meaningful contributions to the continued development of The Bahamas, on their successful completion of studies and return home."
DPM Davis said that on other matters, there have been cultural exchanges from both sides, with a Chinese combat Troupe coming here for our 41st Anniversary of Independence this past July and a cultural group from our side visiting China just a few weeks ago.
"Another significant event this year has been the visit to The Bahamas of a number of doctors, who performed successful surgeries for the removal of cataracts on a number of Bahamian citizens, thus enabling them to gain their sight once again," said DPM Davis.
Mr. Davis said that this has had a profound impact on the lives of these people and for this, Ambassador, we are forever grateful to the Government and People of China.
"It is clear that, notwithstanding the fact that we are separated by many thousands of miles, we are able to join hands across the wide expanse and express friendship, which is the key to a harmonious world, where peoples live in peace, respecting their differences and celebrating their many similarities." said DPM Davis.