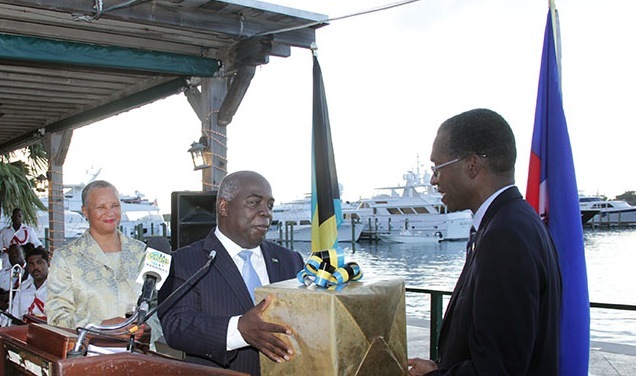 NASSAU, The Bahamas – Deputy Prime Minister, Minister of Works and Urban Development, and Acting Minister of Foreign Affairs and Immigration the Hon. Philip Davis bid farewell to the Ambassador of the Republic of Haiti to the Commonwealth of The Bahamas and Dean of the Diplomatic Corps, His Excellency Antonio Rodrique at a Farewell Reception on Thursday evening at Luciano's of Chicago, East Bay Street.
Ambassador Rodrique spent almost five years in his Bahamas posting, and now takes up his new assignment as Ambassador to the Kingdom of Belgium. The event was attended by Government officials, members of the Diplomatic and Honorary Consular Corps, and distinguished guests.
The Deputy Prime Minister stated: "With the passage of time, we have an ever-increasing understanding of the benefits of forging relations and partnerships with all countries close to us in geography and in spirit. Guided by this sense of togetherness and cooperation, we resolutely meet the challenges before us with confidence and determination, notwithstanding the size or development level of other States."
Commending Ambassador Rodrique's diplomatic representation, Mr. Davis continued: "Excellency, in keeping with diplomatic representation from Haiti, we in The Bahamas have greatly benefited from your experience as a career diplomat. From the start of your tenure to the present, you have been called upon to act on behalf of your citizens on the ground and in our maritime territory. You have efficiently sought to address the challenges emanating from economic and political difficulties in your Home Country.
"The most evident difficulty is the influx of your nationals to our shores. This was amplified by the earthquake that occurred just months before your appointment to The Bahamas.
"As has often been said to Envoys to The Bahamas from Haiti, 'Yours has not been an easy task, as you have sought to uphold the laws of The Bahamas while endeavouring to find mutually acceptable solutions to this problem.'
"Nonetheless, through your sound advice and your arduous efforts, and after many years of undertaking, we finally arrived, Excellency, at agreements on very important bilateral matters. These agreements, which were signed in July 2014, include:
• A Framework Agreement on Bilateral Cooperation,
• An Agreement on the Promotion and Protection of Investments, and
• An Agreement on Technical Cooperation in Agriculture and
Fisheries."
The Deputy Prime Minister noted: "We saw your dedication to advance our bilateral trade relations through the assistance provided to a Haitian trade delegation visiting The Bahamas in April this year. Your effort will not long be forgotten.
"As you turn the page on your diplomatic career in a few days, so does your Country with the holding of the long-awaited parliamentary elections only a few days ago, on the 9th of August. We hope only for the best for both you and your Country.
"In closing, Excellency, we have enjoyed the excellent working relationship with you and your staff at the Embassy. The dynamics reflect the longstanding cordial relations between our Countries. I am certain that this will continue with your successor."