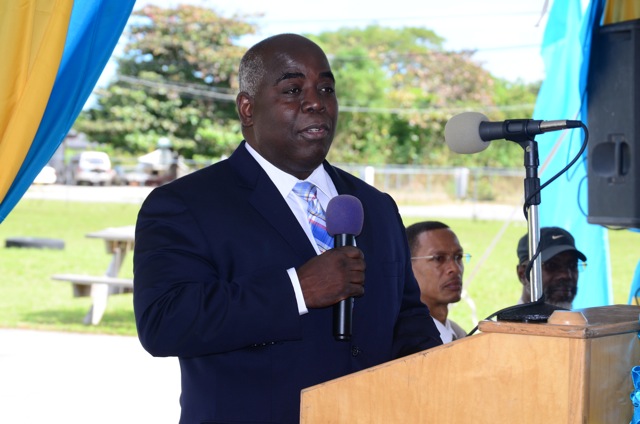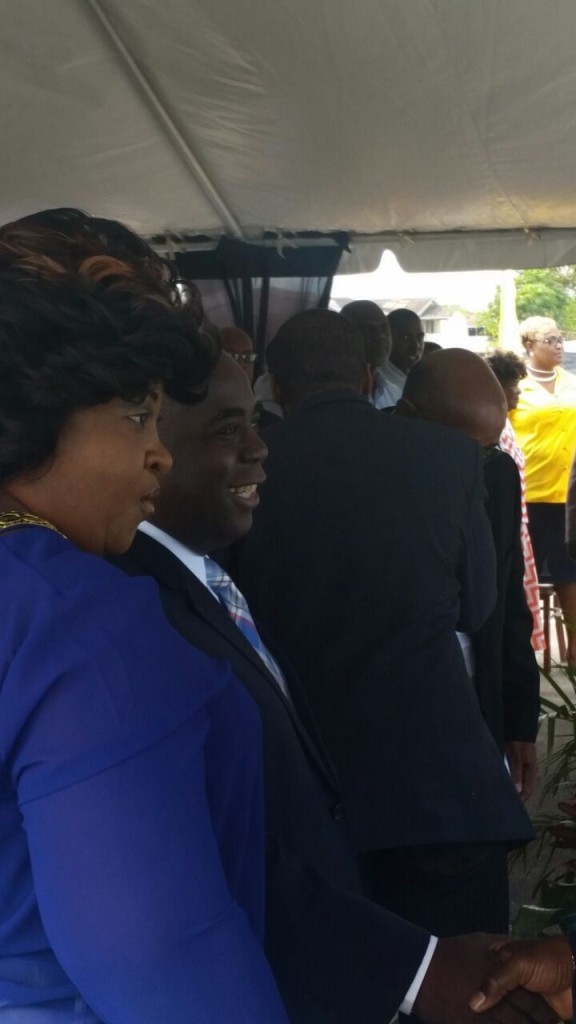 FREEPORT, Grand Bahama – Deputy Prime Minister and Minister responsible for Public Works and Urban Development, the Hon. Philip Davis, on Friday urged young men to 'make a change' in their lives so that they may fulfill their roles in the growth and development of the country.
The Deputy Prime Minister was the guest speaker at the Urban Renewal Mental Health Seminar for Young Men at the Pine Ridge Urban Renewal Centre.
He said he was pleased to be in Grand Bahama, and it is particularly pleasing when he comes because of young people. "I have been advised that the staff of Urban Renewal has a particular concern for Pine Ridge. They have made certain observations – young men skipping school, just hanging around, and waiting to purchase another 'fix'. In other words, our young men, those we depend on to be the foundation of good families, are headed down the wrong road. It is cause for grave concern."
The Department of Statistics, said the Minister, recently released results for its Labour Force Survey and for Grand Bahama there was a decrease in the number of discouraged workers at 55%.
"We are resolutely moving ahead to bring relief to those most in need; and the numbers tell us that you, the young, are those most in need."
In speaking with a group of young engineers last year, said the Deputy Prime Minister, he said he challenged them as he was challenging the young men present. "Hard times come with opportunities. I challenge you to allow hard times to inspire you and drive you to seek new and innovative ways to use the diverse gifts and talents that God has given to each of you. Do not waste them."
He said that the engineers were once uncertain about their future, just as they are, and just as he (the DPM) was. "I came from humble beginnings. Back then, I never even dreamed that I would be the man that I am today. Hard work and opportunities helped me along the way. Most importantly, though, it was my willingness to embrace change that saw me through life's twists and turns.
"Today, I invite you to begin to look at the world and yourselves differently. Our country's very survival depends on you. That is a difficult thought — to have so much responsibility rest with you. However, it is an essential part of becoming a man — a leader — a nation-builder."
Speaking with them based on personal experiences, Mr. Davis said, "If we are honest, each of us has something that we want to change about us. Think about what you really want to change. Maybe you already know it. It could be something in your social life, your family situation, or your living conditions. Take time to focus on these things because if you really want change, if you really want something, it becomes so much easier to keep motivated. I encourage you to write these things down so that they stay with you.
"Then, I encourage you to choose one thing or a habit to focus on for now – just one! You may have several things or several bad habits, but start simple – just one – so that you have a better chance of succeeding. Changing three things at once requires lots of time and energy. An example for me is choosing to walk for health at least five times a week. Walking is not the only thing that I would need to do, but it is a step in the right direction."
He continued, "Taking small steps is very important. One step at a time, one day at a time gets you by the feeling that something is too big or too difficult. That feeling is one of the most common things to hold people back from taking action at all. Take for instance, if you want to be a lawyer, you have to first finish school. To finish school, you have to study. If you take the time to study, it makes better sense to go to school every day and finish.
"Sometimes, the plan in your head or on paper is harder to execute when you act or when you may not move as fast as you thought. I encounter this every day of my life. But taking one day at a time has been immensely helpful. Young people call that living to live another day."
Deputy Prime Minister Davis then quoted Ecclesiastes 11:4 that warns against procrastination. Not having the complete picture is no excuse for inactivity, and added that Solomon encourages people to move as the good things God has to offer will not come to those who waiver. He urged them to just do it.
"It is very easy to get stuck in planning – planning the plan. Sometimes, you do not have time to plan, because that too is time wasted. Get moving and keep the ball rolling. Procrastination – putting things off for tomorrow – is the biggest thief of time. Today is your only promise. Start now. Do what you need to do to rise above your challenges by just taking one small and practical step towards what you want today."
Everyone has a part to play in the development of the nation, no matter how young or old. The Bahamas, he said, is not a rich country but neither is it poor. While the country does not have all that it wants, it has all that it needs and it also has more than most, and for this, the people of The Bahamas should be grateful.
In closing, Deputy Prime Minister Davis said, "We are counting on you to become successful individuals, responsible citizens and effective contributors to our communities. You will play a leading role in building the more successful Bahamas we all want for the future. As a Government, we commit to supporting you through the challenges of adolescence and the transition into adulthood. Because of you, The Bahamas will be smarter, healthier, wealthier, fairer, safer and stronger."
It was then that he focused on Michael Jackson's hit 'Make a Change' and used to lyrics to make his point. By looking at the man in the mirror it means if you are going to make a change, it must begin with you.
"The march to the future begins now. It begins with the 'man in the mirror'."
Brave Davis speaks to Urban Renewal Mental Health Seminar for Young Men