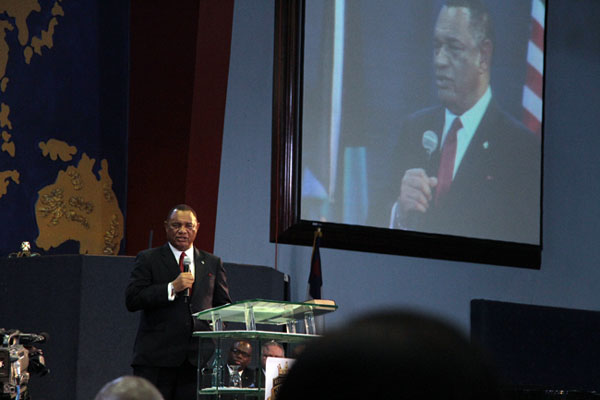 NASSAU, The Bahamas — Prime Minister and Minister of Finance the Rt. Hon. Perry Christie said Dr. Myles Munroe was a "defining personality" in The Bahamas, one who was able to have a "massive" impact in the world, notwithstanding his relatively short life.
"Very few Bahamians have been able to do that," Prime Minister Christie said, November 9, 2015 during the Official Opening of the annual Global Leadership Forum, sponsored by the International Third World Leaders Association, and held at the Myles E. Munroe Diplomat Center — which was renamed in his honour that day.
"Therefore, we should be unstinting in our recognition of what he had been able to attain in his life," Prime Minister Christie added.
Among those present for the opening were Governor-General of the Commonwealth of The Bahamas Her Excellency Dame Marguerite Pindling, Minister of Tourism the Hon. Obie Wilchcombe, Attorney General and Minister of Legal Affairs Senator the Hon. Allyson Maynard-Gibson, Speaker of the House of Assembly the Hon. Dr. Kendal Major, Leader of the Official Opposition the Hon. Dr. Hubert Minnis, and numerous members of the clergy, senior government officials, and international and local stakeholders.
One year ago, on that exact date, Bahamas Faith Ministries International (BFM) President and Co-Senior Pastor Dr. Munroe, his wife and Co-Senior Pastor Ruth Ann, BFM Pastor Dr. Richard Pinder, BFM Youth Pastors Lavard and Radel Parks and their son Johannan, pilot Captain Stanley Thurston and First Officer Frahkan Cooper, and an American friend of the ministry, Diego Santiago, died after their plane hit a crane at the Grand Bahama Shipyard and crashed during stormy conditions.
Prime Minister Christie warned that, unless there are ways found to memoralise persons like Dr. Munroe, they could slip away into the "short" and "dim" memory of the people of the world.
Prime Minister Christie added that there were those who were "partnering" with Dr. Munroe in the church and they must realise what that means and its importance.
"You have ownership of whatever is happening in these walls — and even outside — and you must be loyal to that," he said. "People like myself would come in and look around and feel comforted by the fact that we see people who we grew up with or people who we are friends, who are worshiping here — and people who are genuine in their worship and we feel comforted by that."
Prime Minister noted that Dr. Munroe was a teacher and he would sit and listen to him, on a number of occasions.
Prime Minister shared the illustration of Dr. Munroe and Dr. Richard Demeritte presenting him a photograph of himself on his knees being prayed for by several local and international clergymen and ministers more than a decade ago.
"There was no politics in that," he said. "They were praying for me."
"So, I have come to join my colleagues — as a part of the political constitutional democracy of our country — in full affirmation of the fact that Dr. Myles Munroe and his life partner Ruth Munroe served their country magnificently, that as husband and wife they demonstrated what family life is all about," Prime Minister Christie stated.
"They were exemplars for couples who aspired to be married," he added. "They were exemplars in this church. They demonstrated what parenting was all about and then they had this wider family, with love."