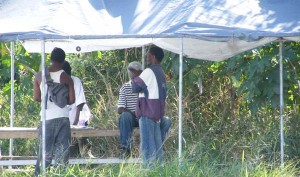 Nassau, Bahamas: Bahamas Press has gone once again to uncovered a serious crime problem that continues to plaque The Bahamas, ILLEGAL DRUG SELLING IN COMMUNITIES. This time the incidents occur in broad daylight on Carmichael Road near Faith Ave. opposite the new Royal Bank of Canada office complex.
At first glance one would agree that the area near Faith Ave. and Carmichael road is receiving a major explosion of development. In December Prime Minister Hubert Ingraham opened the new Milo Butler highway extension. And on this past Wednesday, Royal Bank opened its new southern New Providence office in the area.
However, spying just across the street from that new plush office spaces of RBC, Bahamas Press has uncovered serious nefarious activities. At first glace one would think that (where these men sit in the picture above) perhaps is another car wash or phone card depot. But after a week of investigating, Bahamas Press has uncovered what appears to be a DRUG SELLING DEPOT JUST ACROSS STREET OF THE NEW ROYAL BANK CANADA BUILDING on the main Carmichael Road.
On last week Friday Bahamas Press moving with a concerned resident, who lives in the southern area of the island, took us to this area and pointed us to this hangout on the main road.
"Here is where a main drug distribution point is, the persons there you see with the backpacks on are making the sales, selling drugs to young persons in the neighbourhood," the resident said.
There as we looked across the street, we saw a few men with backpacks on their backs apparently having a casual chat. But suddenly, appeared a young man (around 18 – 20 years-old) with thick glasses on. As he came near the men he approached one of them, and another conversation began. Both men then moved near to a building under construction (left abandoned) behind the tent where the others were sitting to began their transactions.
Moving our binoculars closer in view of the deal, the seller reached into his backpack and retrieved a Ziploc bag filled with small rolls of white paper of what appeared to be drugs. There, making the deal in what they thought was out of the public view, could be seen by many from the main road. It just need someone like us to be paying attention. The transaction was made, the money exchanged and the deal was done.
Similar transactions continued over the next hour, where we witnessed some 7 individuals reenacted what we saw the first young man did.
Bahamas Press returned to the area to see if what we saw was just a one-day incident. But no, over a three-day period, the same crime was repeated.
Bahamians should become concern with the LEVEL OF LAWLESSNESS in this country. In broad DAY LIGHT, ON A MAIN HIGHWAY IN THE SOUTHERN AREA OF THE ISLAND, JUST OPPOSITE OF A NEW BANKING HEADQUARTERS, DRUG SELLING IS BOLDLY DONE IN THE PUBLIC VIEW, whilst authorities are paralyzed to do anything!
We wonder, how is it only Bahamas Press can see such illegal trading in the Bahamas and many who are empowered to investigate/arrest such actions cannot find the time to INVESTIGATE such crimes?
And added to this is our famous question, where are members of the WUTLESS MEDIA?
Now you our readers know for the third time where the drugs are sold in New Providence, let's see what the authorities will do about it.

A view of Faith Ave. and Carmichael Road intersection where illegal drug transactions are done daily.