Lodge Cabinet were shouting, "Give us Barabbas!"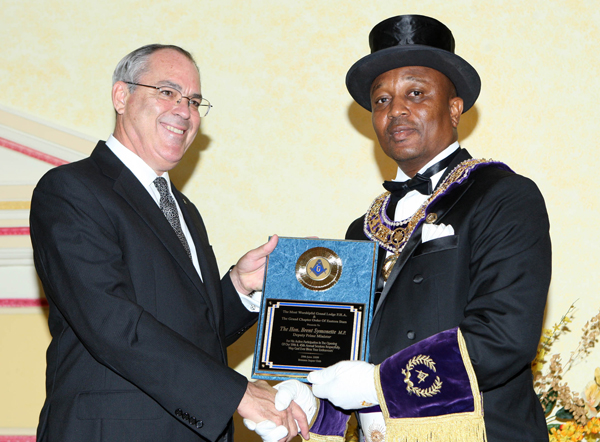 Nassau, Bahamas — BP can report that Uriel "Mr. Sticky Fingers" Johnson, the Worshipful Master of Royal Eagle Lodge, Prince Hall Affiliated is resting uncomfortably at home after being discharged from Doctors Hospital last week. BP was on the scene when Mr. Sticky Fingers begged the doctors to keep him in the hospital but they saw no reason why so, like Pontius Pilate, they released him into the hands of his bill collectors and certain members of his lodge Cabinet who were shouting, "Give us Barabbas!!!" as they walked behind him not helping him with his burdensome cross..What in the hell is dis???
Mr. Sticky Fingers, who was a member of the Merry Men crew until he stole the lodge's money, put up a good front and left the hospital smiling (BP hopes he paid the bill) like all was well. This unworthy brother of darkness had the nerve to hold a bedside Cabinet meeting to try to find out who BP's informant is. The nerve of some a these people! All we have to tell all of them, especially him, is that we know where the bodies buried and they should not provoke BP to wrath again because our shovel here is always ready for an expedition. Test us you bad!!!!
Our informant tells us that Mr. Sticky Fingers, aka Unworthy Brother of Darkness, had to be held down by a crew of portly brothers because he was trying to put on his clothes and hold lodge this week. He is very insecure because he knows there are worthy brothers deserving of his title so he has to always prove and show that he is the Worshipful Master. He knows if he slips, the no nonsense former Grand Master, Carl Culmer, who still holds all the power in Prince Hall can appoint one of those worthy and deserving brothers to his position in a minute. There is also an election approaching for this lodge.
The Grand Master, Sanford Culmer, has finally woken up and decided to look into the ability of Mr. Sticky Fingers to run a lodge. He has promised to investigate the Masonic Misfit of a Worshipful Master and put an end to the Masonic Slackness in Royal Eagle Lodge. This would mean putting an end to the slackness of the drunken, womanizing secretary and treasurer, Mai Rahming and Orald Newbold. This would also mean the love sick, former Worshipful Master, Juan Bethel and his girlfriend the spoiled brat, biggety, journalist Tanya Cartwright would have to cease their open affair or face expulsion from the lodge like the other two bold and brazen sweethearters who got the big compass and square emblazoned on their back sides when they got kicked out of Prince Hall Lodge. What a sweet day in Masonry that was. By the way this former Worshipful Master, Bethel, convinced Mr. Sticky Fingers that he could not sit in for him during his recuperation period. He knows better because Queen Biggetty would possibly show up during the secret lodge meeting and command him to leave at once. We said she is biggetty! So instead some "soft" Mason sat in for Mr. Sticky Fingers who our informants say was day dreaming during the meeting.
BP is going to keep an eye on this Royal Eagle Lodge and make frequent reports for yinna to decide. So mote it be!