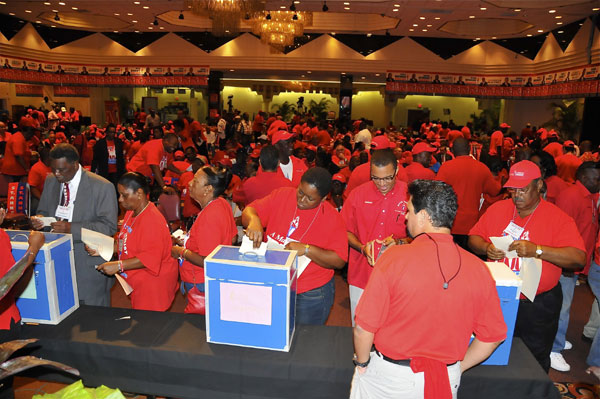 FNM delegates and party officers cast their ballots at the party's election of national officers on Friday, November 6, 2009. (FNM Photo)
Nassau, Bahamas — Word coming into the newsrooms of BP confirms the General Elections could be held in mere 22 months from today. Sources in the FNM confirmed to BP the Prime Minister and Party leader of the Free National Movement, Rt. Hon. Hubert Ingraham, has begun mobilizing his Party's machinery for the big day.
"BP the date being discussed in quarters could be shortly after Valentine's Day in 2012 and the date could possibly be April 3rd, that same year. What we can firm to you, however, is that Party leader has advised all officers to stand ready and that within 18 months from his notice last week the big day will be."
The statement hushed speculation of an early election as it also failed to confirm the sign as to whether the MP for North Abaco will make another run in 2012. That is yet to be determined.
Last week deputy director for BIS, Sharon Turner, circulated a video by instruction of an election strategist Roy Boyke, who is in town under a consultant contract. Boyke is advising the Party on how to find the right election message. "We are now test our message and will soon have the right them for the BIG DAY!"
Turner in her dual role as Webmaster for the FNM, circulated the video telling all MPs and Senators along with party officers to post its contents on all websites and social online networks operated by them.
No one knows the day or the hour when Hubert will go to battle with his onetime contemporaries in the PLP, however, all we know for certain is this; there will be BLOOD IN THE WATER come Election Day.