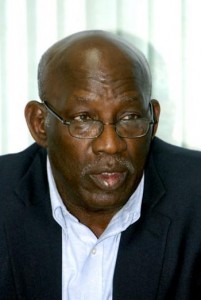 Nassau, Bahamas — Bahamas Press is investigating under the thunderous skies tonight a dangerous, we say EGREGIOUS circumstance, developing out of the Parliamentary Commissioner's office, which has now reached the ear to the highest office in the land.
Public officers in the position to know have advised Bahamas Press a major breach has been committed within the Election Registration department.
Sources in the OPM tell us, "We are now being advised an officer within the registration department, on Labour Day [Friday June 3rd] , gained accessed to the department office and removed the entire election kit out of the Office on Farrington Road.
"It is still unclear as to why the said officer removed the important election material or why was it removed on a day the Parliamentary Registration Office was close," the source told Bahamas Press.
We are told the incident had Commissioner Errol Bethel shaking in his boots as he knows if fraudulent registrants surface again, he could find himself once again facing election court; which ruled on two occasions "Egregious Failures" on the part of the Parliamentary Commissioner's office, resulted en masse voter fraud and confusion during the last general elections. The same ruling was repeated during the Elizabeth Court challenge.
Readers would remember how a Jamaican National, Kajani Taylor, surfaced and became a big issue in the Pinewood election court case. In this instance illegal voters were registered in the Bahamian elections and some possessed two voters cards.
Taylor was found in possession of two voters card purchased right out of the Parliamentary Commissioner's office. In an affidavit, the Election Court learned the cards were purchased from an officer for $1,000. Taylor was immediately whisked out of the country and deported back to Jamaica by the FNM government to evade trial.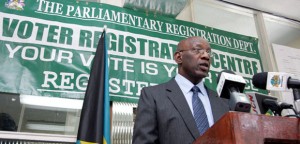 Readers should also note how Errol Bethel was set to retire but was offered to remain on the job for two more years by the Cabinet of the Bahamas. We wonder why, when scores of senior officials in the government were forced to accept early retirement packages.
The election kit is a collection of all of the relevant stamps and paperwork to issue a voter card to a voter.
Bahamas Press has the name of that officer in the Parliamentary Commissioner office and is standing by to wait and see what will be done in this latest breach.
Why did [Mr. SO AND SO] remove the Election Kit out of the office of the Parliamentary Commissioner on the weekend when all worker were off on holiday?
Who in the Department authorized the movement?
Where was the government's property taken when it was removed from the Commissioner's Office?
Bahamas Press is seriously concerned about this breach in the Government Election Office and is calling on the powers that be to clamp down new security measures in the department.