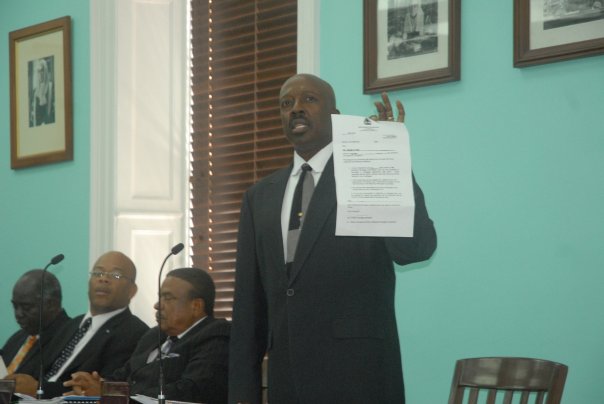 Mid year budget
Elimination of  middle class Bahamians
D. Shane Gibson
March 3rd 2011
Mr. Speaker firstly I would like to thank the wonderful people from the great constituency of Golden Gates for having me here. They have been extremely supportive of me over the years and I am eternally greatful to those persons who continuously work with me without compensation to ensure that golden Gates gets a high level of representation, appreciated by most in Golden Gates and envied by many in the surrounding area and throughout The Bahamas..
Secondly, I would like to congratulate my wife on the celebration of our 25th wedding anniversary on February 15th. This is especially significant to us, since there are forces at work that have tried and persist in trying to destroy my marriage and my family.
Mr. Speaker, this is the forth budget produced since the FNM returned to office in 2007 and not a single one of them has produced the announced estimates. As a matter of fact none of them has even come close and even though this Government has been unable to produce and table the actual numbers for the year ending June 30th 2010, we are here this week debating their failure in their fiscal responsibility.
At the rate this Government is going with their spending coupled with their inability to expand the economy and lack of ability to generate revenue other than through taxation, I wouldn't be surprise if our National Debt reaches $4.5 billion dollars by the end of the upcoming fiscal year.  Mr. Speaker  many persons share the view that because of Governments vision of their eminent departure once the next elections are called, that they are being wreckless in how they spend money and that it will get worst as we get closer to general elections.
Mr. Speaker, the real issues surrounding this budget is the large number of taxes levied on the Bahamian public while this Government is claiming to generate sufficient revenue to adequately satisfy recurrent and capital expenditure.
With the cost of living going up in almost every area including fuel, electricity, and other basic commodities, why is the Government trying to make us believe that inflation is not rising at any significant level. Mr. Speaker, it seems as though every working Bahamian and most business owners feels smothered with an unusual high level of financial burden, except those cushioned members of this Government.
The large middle class which the PLP worked so hard to create is being reduced every single day and the lower class is increasing by leaps and bounds and everyone knows that once your level of living is reduced from one class to the next, it takes years for you to re-establish your position.
Mr. Speaker even though this Government speaks to unemployment being just under 15 percent and that the economy is rebounding because less persons are applying for unemployment benefits, there are other unemployment estimates ( I believe the IMF ) which pegs unemployment in Nassau to be around 19 %. (about 44,000 workers). This figure excludes discouraged and under-employed workers.
And just when the Government is saying that less persons are applying for unemployment benefits, we see where more than 200 direct jobs will be lost in Grand Bahama by Friday of this week.
I wonder Mr. Speaker, how this Government will interpret this and what kind of spin they will weave on the termination on those employees at Our Lucaya. I dare say that this is the type of dream and illusion which the Minister of Tourism so eloquently spoke of at the launch of Baha Mar last week. What we see here the classic position of the FNM Government inability to get the economy of Grand Bahama going.
•    Our Lucaya is getting ready for another massive layoff exercise ( over 200 employees).
•    I blame this Government for not providing an atmosphere conducive to doing business.
•    Worthless bungling Government Ministers in GB.
Mr. Speaker, the residents of Grand Bahama were insulted by this Government during this budget presentation last year by not having anything special in it for them, and now to add insult to injury, at a time when Grand Bahama is at rock bottom, Government Ministers form Grand Bahama continue to tell Grand Bahamians that the economy is not as bad as it was, things are getting better and they are doing their best. Well, many Grand Bahamians ask me to tell those FNM MP's from there that their best is not good enough. Now Mr. Speaker, after having insult the residents of Grand Bahama last year through not including them in a meaningful way in the 2010/2011 budget, the Government had an opportunity to make wrong right, and what did they do, they poured salt over the open wound in Grand Bahama and gave them nothing in this adjusted budget.
Mr. Speaker, they did however allocate over $7 million for the purchase of properties down town, when we look at the monies allocated for the purchase of some of these properties, then one must probe why all allocations were taken out of the budget after the fire when we still have to buy the land which previously had buildings along with other land which wasn't affected by the fire.
This bogus Government continues to mislead Bahamians by telling us that the economy is improving but the problem with that is, it seems as though only some Government Ministers are feeling this improvement.
When we look at the large number of mortgages going into foreclosure  along with those not being paid, When we see the many vehicles being repossessed, When we look at the more than 44,000 persons still unemployed, over 6000 households without electricity, thousands more without water, families unable to eat, the thousands of workers working reduced days, children pulled from Private schools and Universities, Many businesses still closing down every day. It is apparent that some of these Government Ministers are living in another world because in The Bahamas, thousands of persons are feeling worst today than when this budget was introduced last year.
While some persons in the Bahamas including some members of this FNM administration Cabinet, continue to say that Bahamianisation  is dead, and while this FNM administration continues to promote themselves as having all the answers to our unemployment problems, we see where The President of the Great United States of America just appointed a competitiveness council last month and named Jeffery Immelt, General Electric CEO as its chairman, along with other leading businessmen and labor leaders. They have been charged with generating ideas for increasing hiring and boosting economic growth in the short term.  Mr. Speaker, these efforts in the USA is geared towards creating jobs for Americans. When the Preaident of United States speaks to the large trade deficit, NAFTA and large US Corporations operating outside of The USA, they are concerned about the millions of jobs taken away from US citizens. Governments all over the world are spending sleepless nights, using up all of their resources finding ways to create jobs for their citizens, when in The Bahamas this Government goes at great length to convince Bahamians that they have no right to think that any policy geared towards giving them first right should be expected or condoned. Mr. Speaker, this Government missed the boat on what the Bahamianisation Policy is all about and their minds have become warped in this regard simply because this Bahamianisation Policy was initiated by the PLP.  But of cause in their usual degree of arrogance, some in this Government refuse to use the local resources available to them to get us out of this mess and create jobs for Bahamians, they are taking us deeper into.
Mr. Speaker, even though the FNM is attempting to redefine Bahamianisaton, the fact of the matter is that Bahamianisation simply means qualified Bahamians must be given first right of refusal for ALL opportunities available in The Bahamas. In his presentation, the member for Garden Hills failed to inform this honorable place that when some Chinese workers were allowed work permits for the construction of TG Glover, that we had just come out of three major hurricanes, we were in the middle of an active Government housing program, Atlantis phase three was in full swing and we had a booming construction industry throughout The Bahamas where some construction workers had two and three jobs..
Not one work permit was given for unskilled workers, unlike the thousands of unskilled Chinese workers which this uncaring and heartless Government will grant permits to while thousands of Bahamian construction workers continue to be unemployed for years. This Government has little regard for people…particularly Bahamians and appears to place a greater value on THINGS rather than PEOPLE. We are about to see this Government in motion again as they continue to decimate our Bahamianisation policy and once again they will attempt to wipe out several professions in one swoop. They will affect engineers, quantity surveyors, heavy equipment operators, specialized, general and unskilled construction workers and many more. I am referring to the proposed Chinese involvement in works in Exuma.
Mr. Speaker, we continue to hear some in this Government speak loosely about  openness, transparency and accountability, but in their usual hypocrisy, they say one thing but do the exact opposite.  For instance, every Bahamian would no doubt find the contents of  a study completed on BEC by the German consultant -Fichtner most enlightening. Once again, and similar to what happened with the BTC memorandum of understanding, this BEC report is being kept a big secret.
Mr. Speaker you would recall that on numerous occasions, I have requested a meeting with BEC management to discuss the fuel surcharge calculation, on behalf of the residents of Golden Gates, in my capacity as Member of Parliament, and even though the Minister did in fact request  the Corporation to meet with me, to date that meeting has not materialized.
After reading excerpts from this report, I can understand why BEC is refusing to explain how the fuel surcharge is calculated. Can you imagine? The Government gets to run this corporation as inefficiently and wastefully as it wishes and the poor unsuspecting members of the general public are saddled with paying for these inefficiencies under the guise of a fuel surcharge. (read portions of article)
Mr. Speaker, Lena Horn said, "its not the load that breaks you down, it's the way you carry it".
Mr. Speaker at the appropriate time, very soon, I will also be disclosing some damming information concerning current and former Cabinet Ministers who were able to acquire land in an upscale gated community.
Abuse of Public funds:
•    Budget to renovate public library $3.3 million and Arcop was given the Architectural contract without going through a tendering exercise.
•    We saw where the FNM Government gave away monies to their cronies at the Magistrate Courts Complex Nassau St, Government Complex Grand Bahama, Straw Market and Mortgage Corporation building next to Ministry of Works.
•    Now we are hearing that they are giving out contracts again at NIB for Government Clinics all over The Bahamas without going out to Tender.
•    Arcop has been given over $22 million worth of work without going through a tendering process.
•    Request Minister to table documents showing all contracts awarded to Arcop.
•    While this inept FNM Government is busy creating red herrings and smoke screens; the Country is being robbed blind.
•    Election money being organized.
Demonstration
And when Bahamians want to show their objections through protesting,
•    Government put dogs on demonstrators
•    Prime Minister ran from the people, same man who was supposedly so popular
•    People barricaded from Parliament
•    Bahamasair Board members being catered to.
•    Show plaque cards with FNM failures.
THE FNM RECORD:
¬    MORE THAN 6,000 RESIDENTS ARE PLUNGED INTO DARKNESS AS THEIR POWER SUPPLIES WERE DISCONNECTED BY AN UNCARING FNM GOVERNMENT
¬    SCORES OF PUBLIC SERVANT INCLUDING : POLICE OFFICER, CUSTOMS OFFICERS, IMMIGRATION OFFICERS & WORKERS AT ZNS WERE SENT HOME
¬    THE FNM GOVERNMENT DELIVERED THE LARGEST TAX INCREASE IN THE HISTORY OF THE BAHAMAS ON BACKS OF THE WORKING POOR
¬    UNEMPLOYMENT ESCALATED TO RECORD BREAKING LEVELS EXCEEDING DOUBLE DIGITS AS THE FNM GOVERNMENT LED THOUSANDS TO THE UNEMPLOYMENT LINES
¬    DURING THIS PERIOD, THEY HAVE MOUNTED PILES OF DEBT ON BAHAMIANS UNBORN; GROWING THE NATIONAL DEBT BY OVER $1 BILLION DOLLARS IN LESS THAN 3 YEARS
¬    THE FNM GOVERNMENT DELIVERED FOUL SMELLING HYDROGEN SULFIDE LASED WATER TO THE GOOD PEOPLE OF GRAND CAR, ABACO AND SAID IT WAS SAFE TO DRINK
¬    MASSIVE POWER CUTS IN ABACO AND ELEUTHERA DURING 2010 CRIPPLIED LOCAL BUSINESSES, ESPECIALLY TOURISM AND THESE BLACKOUTS STILL CONTINUE
¬    THE FNM GOVERNMENT CUT PRIVATE SCHOOL ASSISTANCE AND SUSPENDED THE EDUCATION LOAN PROGRAM, BUT GAVE THE 19 RICHEST FAMILIES $28 MILLION TO CONSTRUCT A PORT FACILITY THIS IS REVERSE ROBIN HOOD
¬    HUNDREDS OF SCHOOL GRADUATES WERE BRUSHED ASIDE AS THE FNM GOVERNMENT CANCELLED THE STUDENT LOAN PROGRAM
In conclusion Mr. Speaker, it pains me to say that this mid year budget presentation is a clear demonstration that this spiteful, arrogant and vindictive Government  has failed miserably to create opportunities for the thousands of Bahamians who continue to suffer at their wretched hands.