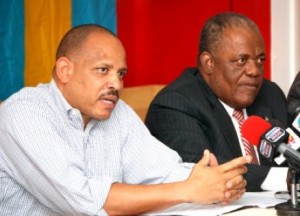 Nassau, Bahamas — Bahamas Press is reporting more trouble in the camp of the FNM, and this time it is in Elizabeth.
Members of the Free National Movement Elizabeth Association we are told will resign from the organization if the Party is fixed on running the 'BAD CANDIDATE', Duane Sands in the area.
Sands on the eve of Valentine's Day was appointed in the Senate. The announcement of the move first came on BP, seven days before the Cabinet announcement. But the news was no love affair in Lizzy.
Moreover, neither the Senate appointment nor the decision for the Party to place Sands in Elizabeth has come with open arms and here's what we know.
In a constituency meeting held this week, Sands appointment came with disapproval by staunch FNM members who believe the "Good Doctor's" skills are best suited in the strained hospital.
"Why would we go though this argument again? We all know violence has taken on a new twist in this country and we need all hands – INCLUDING THE STEADY ONES – on deck," on Association member told BP.
"Sands needs to stay out of Elizabeth. We need him in the hospital! Not on the ground in this community terrorizing us about how "GREEDY" we are.
"Didn't he promise us longer extended hours at the Elizabeth Clinic during the bye-election? That never happened and we in power! He promised longer libruary hours for the children, and that has not yet happened! We are the government and we are paralyzed to do these things. And now what he promise us for the next election? That We fat and Greedy?"
BP was told the meeting with members of the FNM Elizabeth branch saw bold objections to Sands and went further with threats by members of the association to leave the organization if he remains the standard bearer for the Constituency.
Readers would remember objections first came when Sands was ratified as a candidate in the Elizabeth bye-election of 2010. Members then took their objections to the hierarchy of the Party but was stopped by the 'One Man, ONE EYE' Candidate's Committee, [PAPA].
We will wait and see who has the balls in that branch to come up against PAPA's nominee. Like Johnlee, Ivoine and Branvilleee we assure you, the 'wussies' will fall right in line.
WE NEED CHANGE!