The food keeps coming – but where is it going?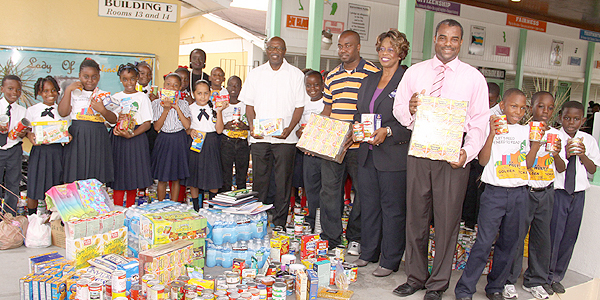 By the National Emergency Management Agency
NASSAU, The Bahamas – The Eva Hilton Primary School, formerly Oakes Field Primary, presented the National Emergency Management Agency, NEMA, with an assortment of hurricane relief supplies during a special assembly held at the campus on Friday, October 16, 2015.
The presentation was prefaced by the singing of the soul-stirring song, "Reach Out and Touch" (Somebody's hand … make this world a better place if you can….).
Administrators noted that the students decided to take from their homes to give to those in need, following the wrath of the devastating Category 4 Hurricane Joaquin which struck the Central and Southeast Bahamas at the beginning of October.
The islands severely impacted were Acklins, Crooked Island, Long Island, San Salvador and Mayguana.
Accepting the items was Chrystal Glinton, First Assistant Secretary, NEMA, who thanked the students and administrators for the gesture, while promoting the rebuilding of stronger and safer communities that were devastated by the storm.