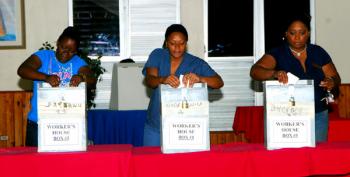 <<< Members of the Bahamas Hotel Catering and Allied Workers Union cast ballots for the team of their choice at Workers House. (Photo/Torrell Glinton/FILE PHOTO)
Click to listen to ZNS News Report

Nassau, Bahamas – Every dime is alleged to have been removed out of the Bahamas Hotel Workers and Allied Workers Union's bank account Bahamas Press has learned.
With hotel workers being sent home by the day and hotels closing all over the country, hotel union executives are THIEFIN the people's money through the front door. WHAT IS THIS!
Bahamas Press has learned some $665,000 was removed out the Union's bank account and has now jeopardized the union's ability to pay staff and bills. We now ask, with many workers fired and hotels closing, why would some rip every dime out of the Union's Bank account? Again, here's the result of a FAILED judiciary.