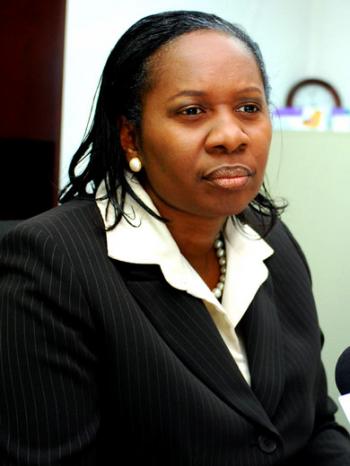 Nassau, Bahamas — BP has learnt Secretary of the Bahamas Union of Teachers [BUT], Stephen Mcphee, has been suspended by Belinda Wilson yesterday following a circular to educators on the pure wastage and abuse by her just minutes after taking the oath of office.
BP reported how Wilson approved the removal of  $100,000 from the teachers' pension money just hours after being sworn into office further crippling the already limited funds of the trade organization.
And this is not the first time the insane Belinda has committed this raid of money. Prior to her dismissal by the AGM, Wilson without approval of the Treasurer and officers removed more than $70,000 of teacher's pension funds out of the account, and later suggested the funds were used to pay utilities for the office. The money has yet to be returned to the Teachers' Pension account.
The embattled president narrowly won the presidency last month which is being contested following a slew of irregularities during the September 21st. poll.
Wilson and her opponent Frances Friend both claimed gross irregularities took place, where ballot boxes were unlocked and scores of ballots were not signed or stamped by the department of labour election officials.
Bahamas Press is calling on the minister of labour Dion Foulkes to look into the matter and declare the rigged poll null and void, and remove the CORRUPT officers from his ministry before BP exposes them one by one.
Bahamas Press has learnt director of labour, Harcort Brown, is deeply concerned with the recent poll and wonders what transpired while he was out of town during the election. Information coming to BP suggests two officials in that department are known for election rigging and this experience is no different. BP is looking into the matter.
Meanwhile, Wilson has made claims that McPhee violated the Code of Ethics by disseminating information to the educators. "There is nothing in the Constitution that states that the Secretary General should not advise the members how their money is being spent. Belinda has gone mad and is set to destroy our union this time around. She is wicked and must be stopped," an educator told BP.
Wilson suspended Mcphee for three months. We are told she has allowed her father to operate his Justice of The Peace business directly out of the teachers' headquarters.