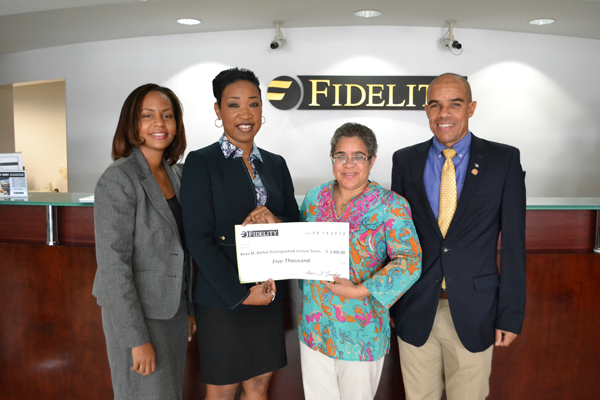 Nassau, Bahamas – Through her life and legacy the late Dr. Keva M. Bethel, CMG, left an unparalleled imprint on the development of The Bahamas and tertiary education in particular.
On August 21st, Fidelity Bank (Bahamas) Limited will join The College of The Bahamas and the Bethel family in honouring the pioneering spirit of one of the country's most preeminent educators and visionaries, in presenting the Keva M. Bethel Distinguished Lecture. Celebrated Bahamian writer and cultural advocate Mrs. Patricia Glinton-Meicholas will speak on the topic: "A Modest Proposal Towards A Truer Emancipation and Truer Independence."
This will be the second consecutive year that the Distinguished Lecture will be held. It was launched last year as part of series of initiatives to commemorate the beloved luminary and academic.
Fidelity Bank is the primary sponsor of this event and Ms. Tangela Albury, Head of Internal Auditing and Compliance and an Executive Committee Member, said Fidelity Bank is a "huge supporter" of educating Bahamians and the Distinguished Lecture is an opportunity to invest in both students and the wider public.
"The Keva M. Bethel Distinguished Lecture is an excellent opportunity to celebrate the life of a Bahamian icon. Dr. Bethel was a veteran educator in The Bahamas and had excellent ideas on education and educational reform and was committed to develop and support Bahamians in our society," Ms. Albury said.
Dr. Nicolette Bethel, Dr. Bethel's daughter and Associate Professor in The School of Social Sciences at The College, said the Distinguished Lecture is envisioned as a means of presenting Bahamians with new ways to think about themselves and the world.
Dr. Bethel's son, Edward Bethel, Director of Distance Education at The College concurred and said
"While Dr. Bethel was alive, she and Mrs. Glinton-Meicholas were very good friends, and I think that Mrs. Glinton-Meicholas was very clear about what  Dr. Bethel's vision for education and for  nation building was and will be able to highlight that and draw that out through her presentation," he said.
For The College of The Bahamas, the Keva M. Bethel Distinguished Lecture is an ideal way to honour the investment in education and leadership that Dr. Bethel gave to the country.
Dr. Keva M. Bethel served The College of The Bahamas from 1975-1998 as Chairperson of Humanities, Academic Dean, the first female Principal, and the first President. In 2004 she was named President Emerita. She received numerous awards, culminating with the Companion of the Order of St. Michael and St. George from Her Majesty Queen Elizabeth II.