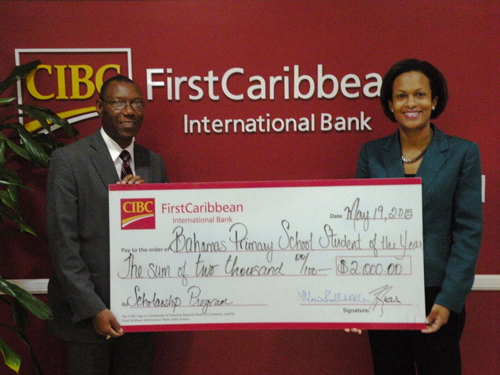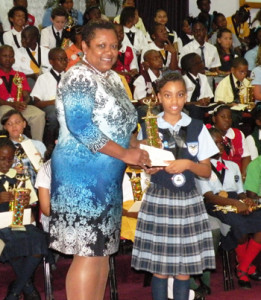 Nassau, Bahamas  – Kaitlyn Francis, a 6th grade student from Central Abaco Primary School, has been named the recipient of the 13th annual CIBC FirstCaribbean sponsored scholarship award in the Bahamas Primary School Student of the Year Award (BPSSYA) program. Miss Francis who was amongst the 12 finalists, ranked 7th place out of the 121 participating students.
Kaitlyn received her award at 19th annual Primary School Student of the Year Award this past Saturday. The 12 finalists were selected by an independent panel who evaluated the students on academics, extracurricular activities and leadership amongst other criteria.
Kaitlyn, who is Deputy Head Girl at Central Abaco Primary School, meets the criteria for the programme with flying colours. Her resume is a consummate display of well-rounded extracurricular activities and stellar grades. The young scholar is an avid religious education student, placing 2nd in Abaco's Religious Education Month Speech Competition. She is also a member of the school's Math Team, ranked second in the district, and a member of the school's award winning Lego Team. She was also the winner of the district spelling bee contest going on to compete in the National Spelling Bee.
Principal of Central Abaco Primary School, Ms. Beatrice Moxey, said that Kaitlyn has always been a driven young lady and that the school is very proud.
"We are very proud of Kaitlyn, she always puts her best foot forward," said Ms. Moxey. "She is a quiet student, but an excellent academic and ever since she entered our school has consistently been on the principal's list. I congratulate her on her excellent performance, she is a very strong young lady and I look forward to seeing her continue to succeed as she moves into high school."
Kaitlyn Francis' scholarship is the continuation of a 13-year tradition on the part of CIBC FirstCaribbean. The bank has once again sponsored the Bahamas Primary School Student of the Year Award programme donating a $2,000 academic scholarship.
BPSSYA President and founder Ricardo Deveaux stated that the programme continues to grow and would not have been able to come this far without the support of CIBC FirstCaribbean.
This year is one of our biggest yet. We recognised 121 students, and awarded $103,000 in scholarships. To date we have awarded over $1 million since the programme started, and CIBC FirstCaribbean has been a major part of that. They have made substantial contributions toward the growth and development of the programme since 2003. This year, the bank was once again one of our major sponsors, presenting our 6th runner up, Kaitlyn Francis, with a $2,000 Scholarship."
Marie Rodland-Allen, CIBC FirstCaribbean's Managing Director, said that the bank is happy to support organisations committed to the success of Bahamian youth.
"CIBC FirstCaribbean has been a long-time sponsor of the Bahamas Primary School Student of the Year Award because we believe in its mission to encourage young Bahamians. It is a mission we have championed in much of our own philanthropy, such as our annual support of JA, our relationship with the Bahamas Swim Federation, and our recent sponsorship of S.T.R.A.W. Inc. Centre for Young Women. We see the BPSSYA scholarship award as a way to encourage young people to continually drive to succeed, even at this early stage, and to show them that hard work brings rewards."
She also congratulated Kaitlyn and all of the nominees for their academic excellence.
"We congratulate every nominee at the awards ceremony. We have a great deal of admiration for these dedicated young scholars; all of the nominees are outstanding. We especially congratulate Kaitlyn Francis, this year's CIBC FirstCaribbean scholarship recipient. It is easy to see why a young lady of her determination and drive would stand out, even amongst this group of excellent students. We are excited to see what her future holds."
CIBC FirstCaribbean has invited Kaitlyn to visit the CIBC FirstCaribbean Branch in Marsh Harbour and spend a day as a banker, to learn about the banking industry and the people and careers that make it work.