Goodness! If Duane Sands could be a senator then Donald Trump deserves to be President of the United States!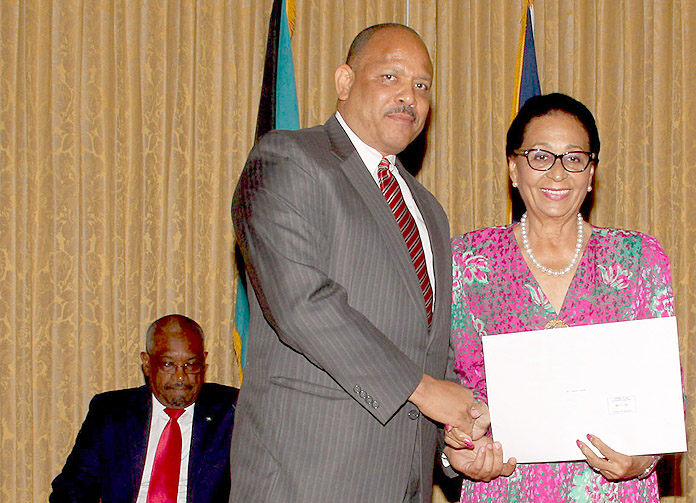 NASSAU, The Bahamas – Leader of the Opposition Hubert Minnis must be tired going to Government House to have installed some new senator in his parliamentary team, but sometimes a politician must be careful when he say some things.
Readers should remember how Minnis himself introduced and announced a policy of rotating senators at the two and a half year mark under his leadership. This was announced when he took hold of reins in the FNM. But before his plans could spring into action the FNM Senators began dropping out the Upper House like flies. Laing – GONE! Bannister – GONE! Hunt – FIRED! Bostwick – FIRED! Pintard – FIRED! And then, last week, the FNM's 'Red Woman' Lanisha Rolle – FIRED after her fellow council member, Lincoln "SETUP" Bain, ensnared her! Boy, what a time.
Governor General Her Excellency Dame Marguerite Pindling finally presented Sands with his Instruments of Appointment as Senator. It had been a long time coming. The man who called the people of Elizabeth "GREEDY" has been given a platform. The modern-day Herod, who went on national radio and called for mass deaths of babies, just to control the birthrate. The unrepentant surgeon who called for castrations [CHAP DEY DICK OFF] and marched to hang now has a seat in the Senate! To us, he makes Donald Trump to appear like a saint. But ya know Minnis had no choice. The new generation X politicians inside the Free National Movement all have let down the party and disappointed the leader.
The party birth-pains are great – indeed! And if Dr. Minnis cannot deliver this stillborn political child then no one can.
But what caught our attention most at Government House was the picture above: pictured in the back seated at the ceremony was Leader of the Opposition Free National Movement the Hon. Hubert Minnis wondering what just happened. He must be ready to throw in the towel, as the next chapter will reveal more resignations following the June 7th Referendum Political Massacre by the People at the polls. Stay tuned!
We report yinner decide!