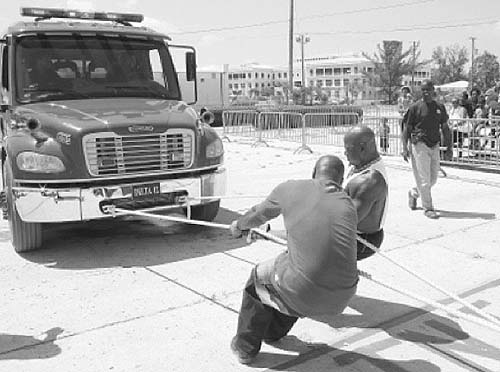 <<< Whilst coal burners were busy burning down Nassau's forest areas over the weekend, this was where several of the country's few fire trucks were parked, at the Queen Elizabeth Sports Centre for a weightlifting event. Could someone please tell us who authorized this?
Our society is fast becoming one band of CRAZY PEOPLE WALKING AROUND ACTING LIKE THEY HAVE SENSE. When we came across this we could not believe our eyes.
Fires sprung up across the Southwest area of New Providence this past holiday weekend, but look where this fire truck was? The trucks were at the Queen Elizabeth Sports Centre at on weightlifting event.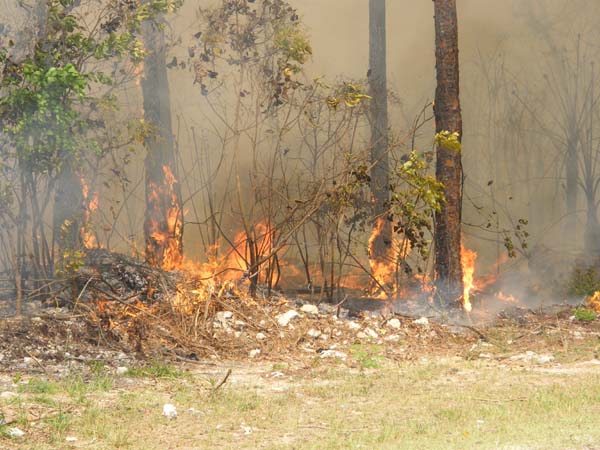 Nassau is fast becoming ONE CRAZY JUNKANOO SOCIETY YA KNOW! People homes are burning down and the fire truck at a weight/rope pulling event? WHO's RUNNING THIS COUNTRY?
We were in the Southwestern area when the fires broked-out and for HOURS upon HOURS Carmichael Road West – just pass Bacardi Road – was impassable.  NOT A SINGLE FIRE TRUCK HAD REACHED TO THE SCENE, NOT ONE!
NO one made their way out there to cordon off traffic. The Defense Force Officers were working up a sweat parting in Montagu at their regatta weekend event, and the Police have the fire trucks at the Sports Centre. All this happening whilst Illegal Coal Burners are burning down the country to ready shipments for Haiti. BOY, THIS COUNTRY IN ONE BIG MESS. If only the BLIND COULD SEE WHERE THEY'RE HEADED!
OPEN YOUR EYES AND SEE BAHAMAS, THE COUNTRY NEEDS CHANGE! WE'RE ALL BEGGING FOR IT!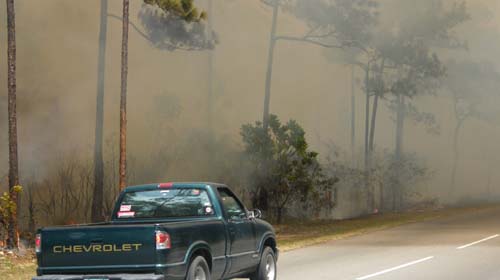 For at least a quarter mile cars on Carmichael Road could not pass due to the heavy smoke lifting in the area over the holiday weekend. Firefighters never appeared on the scene. For hours motorists and residents alike struggled through the thick smoke, where the fire threatened homes nearby. Where was the fire trucks? THEY WERE NO WHERE TO BE FOUND. Residents in this country will learn and learn soon, somethings are VERY coordinated in this town. As we said yesterday, a truck loaded with charred wood was seen leaving the area on Tuesday morning of this week. The shipment was headed for Haiti.