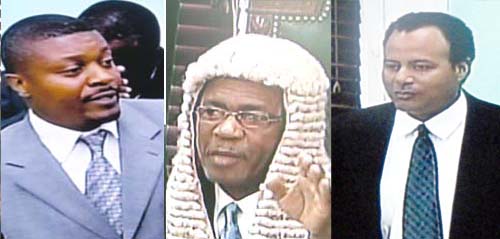 <<< From left to right Zhivargo Laing, Speaker Alvin Smith and Frank Smith.
The Parliament's Crybaby Sour Laing was pissed-off last evening as debate rapped up in the House of Assembly.
Laing on a point of order requested the Speaker of the House Alvin Smith to ask St. Thomas More MP Frank Smith to withdraw his remarks made against the government involving CLICO.
Smith had simply asked the government whether or not it would backing insurance claims by Clico's policyholders, seeing that the Prime Minister has asked them to continue paying their premiums. Frank then went on to conclude that the Ingraham government was once again "backpedaling" on what it said to the people. Adding that Ingraham's FNM was famous for this practice.
Smith also questioned how will loans secured by banks but covered by CLICO be treated if the insured dies, "where would that leave dependents who still live in that home," he questioned. But like a scorched record, Laing repeated the words of the PM adding that Smith should not venture any further into speculations.
Smith then confirmed how he saw on the door of Lowe's Pharmacy in the Harbour Bay Shopping Centre, a sign stating, "CLICO Cards Not Accepted here!, and yet the Prime Minister is telling policyholders to continue to pay their premiums Mr. Speaker?"
Laing began huffing and puffing in his seat, calling on the Speaker to make the member [Smith] withdraw his remarks. But Speaker Alvin never once looked at Laing. In fact at one point he told the Parliament's Cry Baby to, "Take your seat!" Laing's daddy [MUGABE] was not in the Parliament during the evening sitting. BOY HE WAS MAD! Especially now that the Speaking has a cold VIBE against him. Here is something politicos in the country should be wondering, WHAT IS THE BEEF BETWEEN THE SPEAKER AND 'CRY BABY SOUR LAING'? Hmmmmmmm!