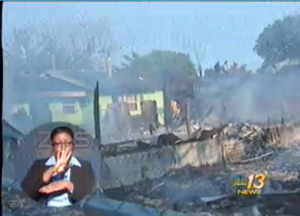 BREAKING 9PM UPDATE:
Three of the seven children perished in a blaze on Fritz Lane in the Sandilands Village area around 4PM this afternoon.
The four are now in stable condition at the Princess Margaret Hospital. We can tell you the four burns are serious.
MP for the area, Leo Ryan Pinder, we are told is at the hospital at this hourt meeting with the family. Pinder was at the scene and on the ground just after the fire broke, assisting the family.
—END—
BREAKING REPORT <<< There was a fatal fire in Sandilands Village Road off Fox Hill Rd. Reports confirm three children are dead as a result of the fire with with several others seriously/critically injured.
The fire occurred around 4pm today.