BTC rolls out its NATIONWIDE UPGRADE CAMPAIGN WITH FLOW TV!!!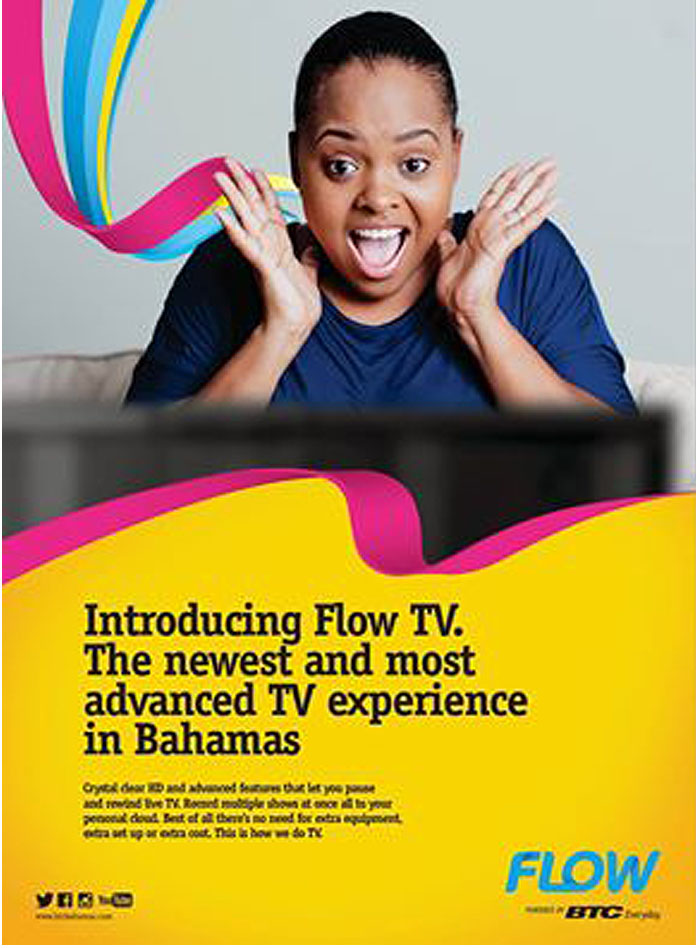 Nassau, Bahamas – January 27, 2016 – After launching in Bimini last year November, the roll-out of Bahamas Telecommunications newest product, FLOW TV is progressing steadily, with Inagua being the second island to launch the product. Internet Protocol Television (IPTV) packages became available to customers in Inagua on December 15th with Cat Island, Long Island and parts of Andros testing for their own approaching launches.
Colette Godfrey, BTC's Senior Product Development Associate with responsibility for Broadband and FLOW TV has been overseeing the roll-out in the Family Islands and says that the response has been very positive, especially in Inagua.
"Customers in Inagua were actually waiting for us to touchdown so they could sign up. We already have 70 customers on the island, most with one or two set top boxes."
Ms. Godfrey said that the testing period was a large part of the enthusiastic response, with the product's positive performance reviews acting as their own advertisement. "Prior to launching in Inagua we had customers on test who enjoyed the service, so Inagua knew we were coming and were asking about the product. I think that is why we got the response that we did. With the success of the testing, when we launched officially they had no hesitation paying for the service."
Prior to FLOW TV, Family Island customers' options were often limited to satellite services or basic cable packages, diminished versions of what customers might find in Nassau, Grand Bahama, or the larger islands.
Inagua tester-turned-customer Josett Pinder said that BTC's FLOW TV service was much needed in her neighbourhood.
"Where I live, we didn't have cable TV at all," she said. "For ten years I had nothing but DVDs so I am really pleased not just to have the service, but that the audio and video are so clear. I have been really happy exploring the features and all of the channels. I trust BTC; they come through for us often and they have again. We are pleased and excited to be one of the first islands to have FLOW TV."
Deborah Farquharson, another Inagua resident, said that the wide selection of channels was what drew her family to FLOW TV. "My husband like sports, I am into religion, and my granddaughter that lives with us loves Disney, and the cartoon channels. BTC gives us a much larger variety than we had previously."
It is part of BTC's mandate to provide the same quality of products and standards of service regardless of the island. Reaffirming this commitment, BTC made the decision to launch its FLOW TV services in the Family Islands first before coming to Grand Bahama and New Providence.
BTC's Colette Godfrey said that quite a bit of ground work went into the roll-out.
"Most issues are already resolved by the time we launch on an island as it was our mandate that the network was upgraded before we introduced IPTV. BTC's technical team ensured that the upgrades were completed and that the nodes could handle the higher capacity and faster speeds required for IPTV. To this end, we installed equipment throughout the islands to improve internet speeds."
She continued that the testing period greatly enhances BTC's ability to offer a top-notch product, tested and designed for Bahamian viewers. And with 68 testers in Cat Island, FLOW TV's next scheduled launch, progress is continuous.
"We monitor testers' activity, how they are purchasing movies, their channel usage and their preferences and we survey them on ways we can improve. We treat them like customers so that we can properly address any anomalies in the service. It gives us an understanding on how we can change the product to better meet customer needs."
With the introduction of this product BTC is now the nation's first Quad-Play provider offering internet, landline, mobile, and now television services. FLOW TV, being and IPTV Service is television offered over an internet connection which according to BTC, allows for a number of advantages including clearer video, more reliable and interactive digital content, more channels and competitive prices.