BTC once again sponsors CARIFTA Swimming and Track & Field teams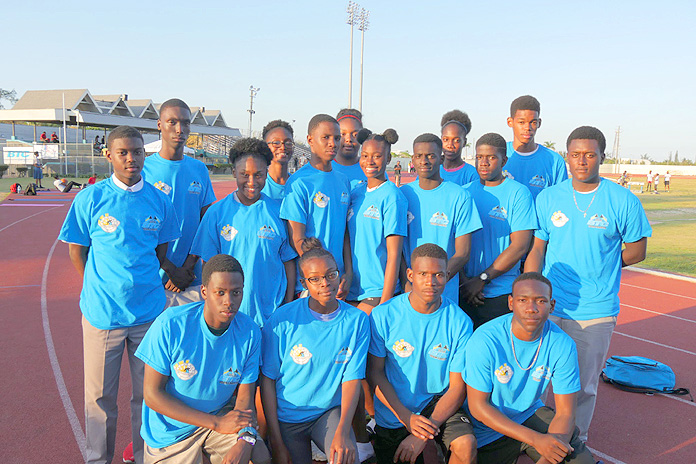 Nassau, Bahamas… (March 16, 2016)…Sports fans in Bahamas and throughout the Caribbean looking to cheer on their country in the 2016 CARIFTA Games will be able to watch up to the minute television coverage in High Definition (HD) for the first time ever. Flow TV, Cable & Wireless' television brand, has signed a partnership with the North American, Central American and Caribbean Athletics Association (NACAC) to be the exclusive media partner and sponsor of the Flow CARIFTA Games and will broadcast the three day sports event live across the region, including here in Bahamas via The Bahamas Telecommunications Company's (BTC) Flow TV and BTC's website.
Persons with BTC's FLOW TV in Bimini and Inagua, and those testing the new product in Rum Cay, Cat Island, Andros, Long Island, and Nassau will be able to watch the CARIFTA Games on the Flow channel. Bahamians in islands where the service is not yet available will be able to access the live coverage at the "BTC TV" webpage on BTC's website: https://www.btcbahamas.com/btctv.
BTC CEO Leon Williams said that the company is proud to give Bahamians across the country the chance to support their young athletes from afar, especially in events where they have performed so well.
"BTC is proud to deliver another 'first' for Bahamian sports fans and delighted to team with our parent company CWC to give Bahamian athletes an opportunity to shine on a larger stage," said Mr. Williams. "Despite our size The Bahamas leaves a mark on whatever sporting event we participate in; last year our teams made us proud, taking home the gold in swimming and the silver in track & field. So, we know Bahamians have high hopes for this year's CARIFTA teams and will be eager to watch."
He continued, stating that the move complements BTC's extensive legacy of support of youth and sports in Bahamas, particularly the company's long and continued sponsorship of the Bahamian CARIFTA Swimming and Track & Field teams.
"Sponsoring and broadcasting these games, is CWC's way of demonstrating its support for up-and-coming athletes across the region. In the Bahamas, BTC has always demonstrated a belief in the potential of young Bahamian athletes and has lent tremendous support to sports organisations, events and even Bahamian Olympians throughout the years. We take pride in this patronage, whether it is signing on as title sponsor at the IAAF World Relays, our 4-year partnership with the Bahamas Swimming Federation, or ensuring that the Bahamian CARIFTA teams were well taken care of as we have done for over 20 years."
BTC was the lead sponsor of the Bahamas Association of Athletics Association's (BAAA) CARIFTA trials held this past weekend March 12 – 13th at the Thomas A. Robinson Stadium. The 54-member team resulting from the trials will also benefit from BTC support. The company has sponsored the CARIFTA Track & Field team providing $10,000 of funding to help defray the team's costs. This is BTC's 21st year sponsoring the team and BAAA President Rosamunde Carey said the company's dedicated, long-term support was very appreciated by the athletes.
"We appreciate that BTC is an excellent corporate citizen and so willing to invest in the future of our young people, particularly in athletics," said Ms. Carey. "We are excited about it and the kids are excited about it, knowing that they have this giant corporate sponsor that believes in them and continues to do so. We are ecstatic that we are able to continue our relationship with BTC and it is one that the BAAA and our executive team hope to continue to cultivate."
BTC also launched last year a four-year, $240,000 partnership with the Bahamas Swim Federation (BSF), to assist the organization in realizing its ambitions for its swimmers, including this year's CARIFTA goals. The Bahamas team is the reigning CARIFTA Swimming Champion for the past two years and according to BSF leadership they hope to make it a "threepeat."
The CARIFTA Track & Fields Championships will be held in Grenada over the Easter weekend, March 26th to 28th at the country's new national stadium, opened January 23rd. The CARIFTA Swimming Championships will be held simultaneously in Martinique. Flow TV will alternate coverage of both events.
Flow's sponsorship of CARIFTA adds to an ever-growing line-up of sport partnerships signed over the past year that includes the Rio 2016 Olympic Games, CONCACAF 2018 World Cup Qualifiers, Premier League Soccer and Manchester United.