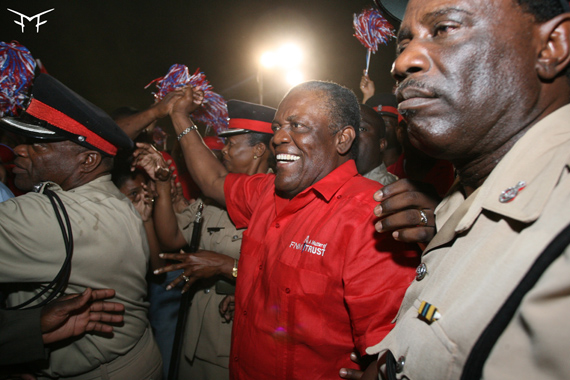 Prime Minister led to the stage at R.M Bailey Park. [file photo]
Nassau, Bahamas: The Free National Movement respects the personal decision made by Malcolm Adderley, the Member of Parliament for the Elizabeth Constituency, to sever his political affiliation with the Opposition PLP. Such a decision is not lightly made and obviously must reflect a deeply thought-out personal determination on his part.
The Free National Movement does not have the benefit of knowing the inmost reasons behind Mr. Adderley's resignation from the PLP.
However, one has only to read and consider the vilification and bile which was spewed in the hysterical PLP press response to venture a guess as to why Mr. Adderley, and perhaps others, may no longer want to be associated with what that organization has become under the leadership of Perry Christie and Bradley Roberts.
The Free National Movement thanks Mr. Adderley for agreeing to continue to serve the Bahamian people as Chairman of the Gaming Board after the 2007 general elections.
We understand that Mr. Adderley is willing to continue in the service of his country as a Justice of the Supreme Court, a position for which he is well qualified, especially at a time when there is urgent need for qualified Bahamian judges willing to serve. If that is so, we highly commend him.
We note that he has previously served in this position in an acting capacity while his political persuasion was well known.