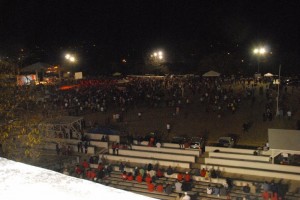 Nassau, Bahamas
— Party officials in the Free National Movement are mum this morning, punch drunk following a disappointing showing at Clifford Park last evening; and the decision to go to Clifford Park has already created a rift in the Party Apparatchik.
We can tell you the showing was poor, disappointing to say the least and has sent rally organizers back to the drawing board.
The night began with entertainment, but a sore point came when by 8PM, less than 200 supporters were assembled on Clifford Park.
Artist Bodine Johnson took to the stage singing her latest single "I DON'T WANT YOU NO MORE!" The song left FNMs cussing some swearing so loud the artist attempted to suggest that she was referring to the PLP.
Then by 9pm the surprise came, people simply would not turn up forcing minister for Broadcasting, Tommy Turnquest, to begin directing ZNS what and who to show on the screens.
By the time Prime Minister Hubert Ingraham had arrive less then 1/5 of the Park could be filled, leaving witnesses to the flopped event red in the face.
The scene was far different from the May 2007 rallies [captured below], which showed a crowd so think back then, one sitting in the field would have had to pass the bucket around in order to use the bathroom.
Last night's showing was different, and if the FNM could test things they should know the contract with them and the Bahamian people is coming to a crashing close.
Meanwhile, PLP Party Leader, Perry ROCKSTAR Christie, and his strongman Deputy, Philip Brave Davis, has taken the campaign swing to the North. The crowd was so thick in Grand Bahama eyewitnesses say, "It was the largest rally ever held on Grand Bahama by the PLP."
According to an FNM source, "We could not even muster a scrap gang on Clifford Park, Carl Bethel, has tricked the Party again!" Dispite flying in scores of family islanders, Including personalities like, Silbert Mills, of Radio Abaco, islanders took the free trip and failed to showup for the Party's event.
One supporter who came from Rocksound said, "I was happy to come, cause I was not working. I was paid pocket money to operate for the day. I came to see my grammy. I have no time for them.
Meawhile BP is advised the RENT-A-Crowd folkes said they wanted their monies upfront. We are told the group are now mad with Dion, Charlie and Tommy. These were the people we are told, which were used in the Elizabeth By-election by the FNM.
BP has been told heads will roll as Papa is highly irate.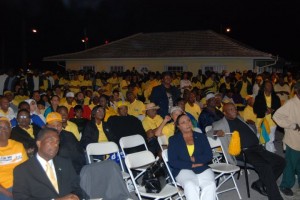 THE FNM AT CLIFFORD PARK IN 2007