Charles Maynard suffers massive heart attack on Abaco Highway this morning at age 42…
North Abaco — In the midst of life there is sadness and death and this morning Bahamians from around the country will wake up to the shocking news of the passing of the former minister of Youth, Sports and Culture, Charles Maynard.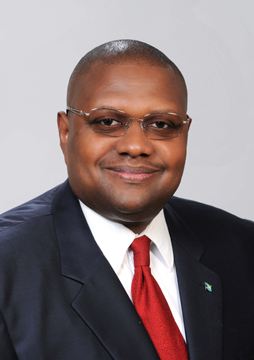 Maynard, who was recently elected Chairman of the Party in June 2012, immediately began his leg of campaigning in North Abaco for the upcoming by-election.
Calls ran into BP early this morning as our team in Abaco reported the development.
We can report the Chairman had just rapped up campaigning in the Crown Haven area of North Abaco just before 1am this morning when he asked his driver to pull on the side of the road to relieve himself. It was then when the former MP collapsed and died of a massive heart attack.
Sources tell us Maynard was immediately unresponsive when he fell to the ground.
According to sources Mr. Maynard was extremely upset with comments made by Dion Foulkes reported in the media over the weekend and Monday morning in the Nassau Guardian. FNMs tell us, "Charlie particularly on Monday chastised Foulkes repeatedly for his utterances against the leader, Dr. Hubert Minnis.
The news quickly spread around the country as family and friends began gathering at his family home.
Only days after his defeat in the Golden Isles constituency in May, Maynard told the morning daily that he was proud of his accomplishments as a minister in the former government.
"I'm very proud of my accomplishments over the last three years as Minister of Youth, Sports and Culture," said Maynard.
"I think we had many achievements that will have a greater impact going deeper into the future in sports and sports tourism. I believe we have gone a long way and we have had some solid commitments from sporting bodies interested in coming to the Bahamas, so I hope whoever it is that will come in will finish the job that we started."
Maynard graduated from Queen's College and later from the College of The Bahamas in 1988 with a degree in Accounting. He was appointed Minister of State for Culture in 2007 and eventually became Minister following Cabinet adjustments in 2009.
He was the son of former PLP Chairman and henchman Andrew (Dud) and Isadora Maynard.
Bahamas Press sends our expressed condolences to the Maynard family; particularly his wife Zelena and his three children. We also extend our sincerest condolences to members of the Free National Movement of which Mr. Maynard served.
Rest eternal grant unto him O Lord! Amen!

Breaking 6:30AM UPDATE: Maynard Pronounced dead at 1:30am
Statement by the FNM on the passing Party National Chairman Charles Maynard…
"The passing of the national chairman Charles Maynard is a tremendous loss of the rising political statesman and public servant, not only to the Free National Movement, but also to our beloved country."