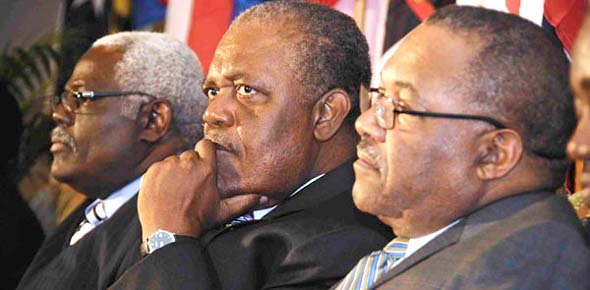 Nassau, Bahamas — Members of the Free National Movement are scurrying right left and centre promising their lives away in an attempt to secure votes for the upcoming election. "Ain Long Now" before papa rings the bell and sets the date. But papa is springing gray hairs all over his body these days, because he is running scared of his fate at the polls come this general election.
Bahamians are upset with the FNM for many reasons. All Bahamian people have to do is step outside their homes and look around and they will see all sorts of ills done by the FNM that persuade them to GO FOR GOLD! They very well can't GO GREEN because they don't know if their candidate will be a woman trapped in a man's body or vice versa.
Leading up to the 2002 general elections, the FNM's heirarchy formed a coup and kicked Ingraham out of the leadership position. Tommy Turnquest, a REAL FNM (not a fake like Ingraham), was placed at the helm of the FNM's sinking ship. Papa, who vacated the leadership reluctantly, went into his obeah closet and dug up a bag of vindictive tricks with Tommy's name on it.
The Gold team was confident of their win and Tommy T, as everyone knew in advance, led his army down a wide road to Defeat Hell. All hell broke loose when Tommy T failed to win – Finger pointing within the ranks, cussing within the ranks, fallout within the ranks and C.A. Smith got a wicked case of 'Da belly and tears' sickness and had to be admitted to the Rand.
That night on Grand Bahama, we remember distantly, was like a mad case of Yellow Fever which swept the camps of the FNM taking them down one by one. The unseen political sword of Perry Christie and his PLP had swept the FNM political village clean taking out long-serving MPs in the Parliament, many whose names we cannot recall. That elections was like a chapter taken out of the page of the script in 'The Book of Eli'
Hubert Ingraham aka Papa Doc laughed with glee as the FNM party crumbled. He was happy of the defeat because he wasn't at the helm. He opened his law firm and entertained his cronies there all day plotting against Tommy and his supporters. Ingraham even stood up in Parliament and said, "If I was in charge, the FNM would have won!!" It was noted and can be proven by the archives of the House of Assembly that since he made that statement, Ingraham referred to the FNM members of the House of Assembly as "THEM" until he became leader again.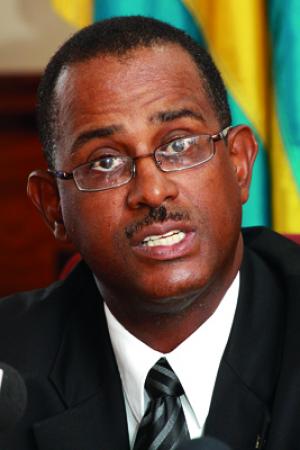 Truth be told is this, The cut_yinner_know_what of 2002 was Hubert Ingraham's cut hip. Tommy Turnquest could not transfer the powers of Prime Minister to the incoming PM. Nor could anyone else order the Commissioner of Police to secure the premises of the leader-elect. Only Hubert Ingraham could have done that as well and so whatever CUT 'BAHIND' was met upon the FNM of 2002 was indeed Ingraham's cut_yinner_know-What!
As leader of the FNM Tommy Turnquest had to make his bed in the nation's Senate because he got the pants beat off of him in Mount Moriah by Keod Smith [the only man to have ever defeated a leader of a Party in an election]. Ingraham did everything in his power to make Tommy T look bad in order to get the leadership of the FNM back in his filthy grip. He went as far as to get election mogul Aaron "Kikki" Knowles, Lawyer Liz Thompson, loud mouth Ivoine 'Pussy Cat' Ingraham and his human lacky journalist Tanya Cartwright to launch a wicked and lying campaign to get him back at the top of the FNM.
Cartwright, who would jump off the bridge into shark infested waters if Ingraham told her to, used her top editorial job at the Nassau Guardian to run Ingraham's "return to leader campaign" in the print media, while Kikki Knowles and the others lied and arranged a motorcade to say they were FORCING Ingraham backing on the scene as leader.
When Golden Boy, Charles Carter, then publisher of the historic Nassau Guardian, figured out what Cartwright was doing he sent her packing and crying to her contractor husband. BP has to figure out what happened to this Ingrahamite after that because she seemed to have gone into hiding. Ivoine Ingraham fell out with Papa; leaking stories to the Tribune against the FNM, because Papa refused to run him as a candidate and Liz Thompson  [Who some say was prepared to marry gay couples in the Bahamas when she was working for the Government], was also rejected as a candidate. She wanted to run against Allyson Maynard in Pinewood and Papa found it laughable. Instead Thompson, who can't get along with anyone [not even her mah], settled for a top job at BTC.
The FNM is in trouble!!! Their supporters are turning against them!! Supporters who aren't leaping over the Green Fence of the DNA are turning and running for the GOLD over Papa and his wutless crew. The country's economy is in shambles, the roads are in an atrocious state, crime is out of control, the poor are poorer… all the while, like Nero, Papa plays his fiddle while the Bahamas burns.
The state of the country under The FNM can best be summed up in an editorial headline: 'Da Poor, Dirt Poor, and us looking up to see the bottom!'
Stay tuned for more, FNM election archive stories
WE ARE HEADED TO THE SOUTHERN NEW PROVIDENCE….This BP Train is moving…