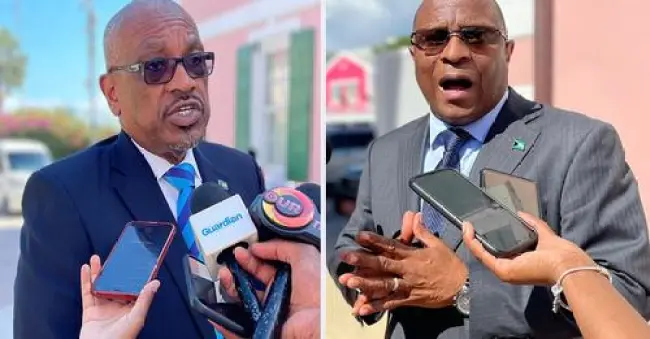 NASSAU| The leadership of the Free National Movement could be once again headed to court this time over the cancellation of the 2023 National Convention.
The party has been dogged by scandal, corruption, incompetence, and troubles since its defeat at the polls back in September 2021 and what could be coming up next for the FNM could be complete destruction for the present leadership.
Bahamas Press has learned legal teams connected to former PM Hubert Minnis have threatened current leader and chairman Michael Pintard and Duane Sands to challenge the party if it failed to call a convention for 2023.
The Minnis team argues that a failure to host a convention when it is legally obligated to deny the democratic rights of the delegates to determine the way forward for the Party and its future leadership.
Minnis, who is still holding onto funds in a massive war chest since his fall from power is presently funding a matter before the courts to have the party pay an executive after he was denied access to executive meetings. 
Minnis who was visibly campaigning in Andros recently along with his side show Coalition of Idiots wants power back into his hands to lock down Bahamians once again and break up the economy which has recovered since the pandemic. 
But Pintard is taking no chances with Minnis blocking his access to public stages inside the party and cautioning him publically that his exercises against the FNM are not helpful.
The wrangling will get nastier and nastier by the days progress and if we don't hear the call of an FNM Convention soon, it looks as if the violence deep inside the opposition party could end up in the hands of a sitting FNM JUDGE!
We ga report and let yinner decide!