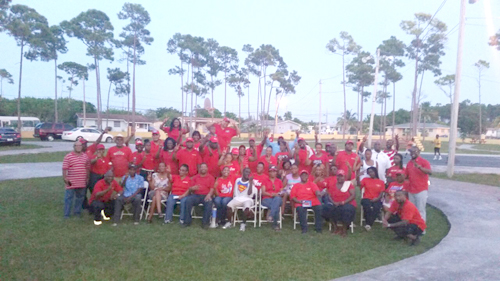 Freeport, Bahamas – The Free National Movement officially launched its Join the Movement initiative on Grand Bahama on Friday, August 7th, 2015 in the Marco City Constituency attracting the attention of a cross sector of the community as the team drove from the FNM's Headquarters to Richard Gaitor's Park.
The street meeting styled event is designed to further energize Party supporters, share the Party's message of change, facilitate fellowship with residents of all political persuasions and to educate the public about the numerous missed opportunities and poor decisions made by the PLP government.
Chairman of the FNM, Senator the Hon. Michael Pintard while addressing the gathering encouraged supporters to be relentless in sharing the Party's message and challenging the ineffective and compromised PLP government whose days in government is coming to an end because of the many broken promises and ill advised decisions.
According to Sen. Pintard, Bahamians in general and our youth in particular continue to experience extreme challenges, among which is record high unemployment which is now pegged at 31 percent and he highlighted the unprecedented levels of crime in which youth are both victims and perpertrators. He expressed deep concern about the significant health and social challenges they faced and asserted that these challenges must be urgently addressed with concrete recommendations and decisive action.
The ultimate goal of Join the Movement, according to Sen. Pintard however, is not "merely to draw attention to the fact that the FNM is the better option to provide good governance to the Bahamas, but to get Bahamians to commit themselves to ongoing involvement in solving their problems and participating in the growth and development of their community." His chorus was, "Change is coming and it is unstoppable!"
Among those present at the launch of the initiative was the Deputy Leader of the Free National Movement, The Hon. K. Peter Turnquest who anchored the event. He stated that Grand Bahama, despite "all the show and rhetoric" by the government continues to suffer economic hardship under the Progressive Liberal Party.
Turnquest added that the leadership of the FNM party is solid and in full support of its leader, who is crafting, together with his team, a real plan to take Grand Bahama Island and the country to another period of growth and prosperity. He added that the economic empowerment of the youth is a priority for the FNM as it aims to address "many of the structural issues facing them" among the areas noted were the lack of funding for scholarships and business ventures as well as the scarcity of skills training for the various fields both in the industrial and tourism sectors which are needed to ensure expansion.