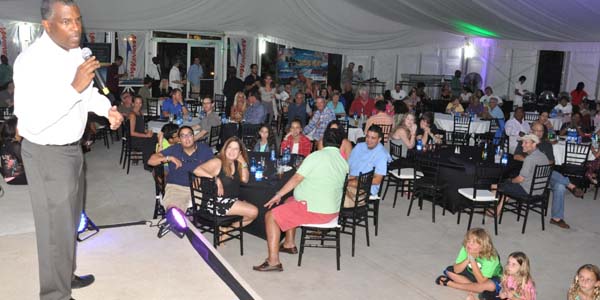 By Simon Lewis
Bahamas Information Services
ALICE TOWN, Bimini – Often declared 'the Gateway to The Bahamas,' the island of Bimini, with its close proximity to the Florida has played host to a number of celebrities and thousands of boaters and fishing tournaments. Now-a-days, the island has regained its popularity for fishing, bright sandy beaches, tasty Bahamian dishes, the nightlife or the nonstop entertainment at Resorts World Bimini.
Bimini has also been a favourite spot for the Minister of Foreign Affairs and Immigration, the Hon. Frederick Mitchell, who traveled there for the Annual Glenda's Road Race on Thursday. He placed first in the '50 and Over' division.
While there the Minister had the opportunity to welcome some 350 persons to the island, who traveled there from South Florida aboard some 62 boats to participate in the Annual Bimini Lobster Bash.
Resorts World Bimini played host to the event, which was organized by Chris Finck of MarineMax Boaters and the Bahamas Ministry of Tourism. Leonard "Brave" Stuart, a native of Bimini and employed with the Ministry of Tourism, was one of the key figures behind the event.