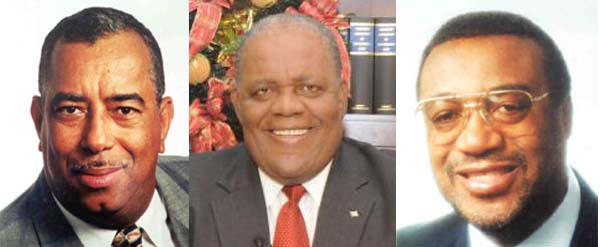 Tennyson Wells, Prime Minister Hubert Ingraham and Algernon Allen.
Nassau, Bahamas – Aaron 'kiki' Knowles jr., the Bahamian who became American Classified Intelligence Agent (CI-0827) and now FNM political strategist is once again fishing for new leadership to take over the Free National Movement.
Members of the FNM are not telling all to the public, but we've learned that the party is getting ready of a political transition at its leadership level. On Saturday, just hours after our announcement of a looming by-election, members of the organization confirmed in the Nassau Guardian, that the party is preparing its national convention for the first week in November.
Knowles who was the 'mastermind' behind Ingraham's return to the FNM leadership in 2005 has already met with former Housing Minister Algernon Allen, and former Attorney General and Minister of Agriculture Tennyson Wells in a bid for either men to run for the leadership in the FNM.
Bahamas Press was informed that both meetings took place separately on last week. The offer being made by Ingraham's man [Knowles] confirms what BP reported on April 6th. [www.bahamaspress.com/?p=3886]. In that article, BP confirmed that Prime Minister announced his intent to not run in the 2012 general election and confirmed to his Cabinet colleagues that a leadership transition is imminent.
Bahamas Press however is concerned with those characters now being courted by agent Knowles. And we 'll explore this character Knowles more closely and will confirm that this "political strategist" is not only an enemy within the FNM, but is also an enemy of this country.
Your Bahamas Press has now attained documentation, which confirms that not only Knowles, but also Prime Minister Hubert Ingraham colluded as agents in the United States in passing information to federal agents on the Bahamas. WHAT WICKED TRADERS OF THIS STATE! BP is determined to deliver this and much more to our global readers, letting them know just why neither Ingraham, nor his henchmen gives a rat's foot about Bahamians! They care nothing about the soon unemployed workers in Exuma, nothing about the CLICO policyholders andcan careless what happens to the thousands who are unemployed and are walking the streets in this country.
And if Knowles becomes concerned with our fact-findings and ponder its authenticity, someone please point him to that beautiful Trinidadian girl who he spoke with often. She was employed in the White House. Now it is certain he knows just where we're headed.