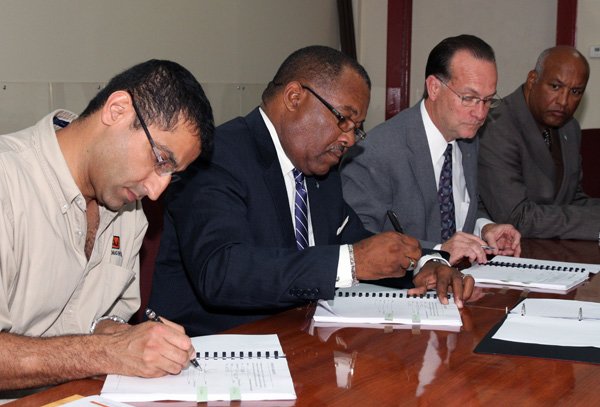 Government has "fast-tracked" its road works program as Nassau prepares for the International Federation of Association Football (FIFA) Congress and the Miss Universe Pageant.
Public Works and Transport Minister Neko Grant signed a $2,436,504 contract with Bahamas Hot Mix on Monday for the paving and patching of a stretch of Bay Street from Blake Road to Mackey Street.
"As a resulting of hosting the FIFA Congress and the Miss Universe Pageant, the Government has fast-tracked its road works program for the northwestern coastal roads and Bay Street to ensure that the route between the Lynden Pindling International Airport (LPIA) and Paradise Island is an enjoyable one for Bahamians and our visitors," said Minister Grant.
Mr. Grant explained that officers from his Ministry evaluated the main vehicular route for access to the Paradise Island Bridge from LPIA via Blake Road, West Bay Street, Marlborough Street, Navy Lion Road and Bay Street.
As a result, they recognized the need to improve the road for an enjoyable and safe ride, he said.
The road works which began May 15 may necessitate closing sections of Bay Street and re-routing traffic during the construction period. Otherwise, he said, the roadway will be reduced to one-lane traffic.
The work will be carried out from Monday to Sunday (not including Fridays) from 7pm to 6am and Monday to Sunday (not including Fridays) from 9:30am to 3:30pm.
"Efforts will be taken to mitigate the inconvenience to the motoring public," said Mr. Grant. "Accordingly, motorists are encouraged to reduce speed and exercise caution when driving through the work areas, to obey the traffic management measures put in place and to, if at all possible, avoid the work areas as delays will be experienced."
Mr. Grant acknowledged and thanked the team from his Ministry for their contributions. They are: Permanent Secretary Colin Higgs; Acting Director of Works Gordon Major; project engineers Dion Munroe and Robert Garraway and Nicole Campbell, Undersecretary. Ebbie Saidi, managing director of Bahamas Hot Mix, thanked the Government for the contract. The work, he said, has to be done in conjunction with the utility companies. The three-month project involves milling and paving.