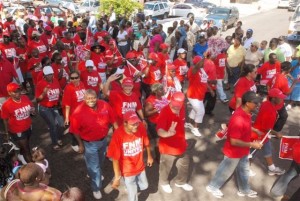 With their usual sense of entitlement and unable to get their own way, the PLP continues to pull stunts rather than act like a responsible official Opposition.
Hot on the heels of their rowdy and unruly demonstration downtown to try and prevent the creation of a new partnership to transform BTC, the PLP last evening walked out of the House of Assembly and on their democratic responsibilities.
This is not the first and probably will not be the last time that the Opposition walks out on the people's business. Their flagrant disregard for the institution and practices of the House was seen as they looked on as a mob threatened to overrun the House last week.
Last night, they yet again abandoned their posts during the important Midyear Budget Review designed to instil greater transparency and accountability of government finances.
Of course, the PLP likes to have it both ways. They want to act in a reckless manner, yet complain when they are criticized for their often undemocratic and irresponsible behaviour. They again criticized the midyear review of public finances as a waste of time then, as they did last year, used up plenty of time trying to defend their abysmal and miserable record in office from 2002 to 2007.
Stunned by their failure to convince Bahamians on the matter of BTC, and on the defence because of how much the FNM has achieved in four years, the Opposition is unable to take the heat in the House. So, instead of doing the people's business, they have placed their own political needs above that of the nation.
Having abandoned most of their promises and responsibilities when last in office, the PLP, now in Opposition, continues to act in that same manner. Last night's walk out from the House is only the last example of such sad behaviour by those who are unfit to govern and incapable of providing the country with decisive and steady leadership.