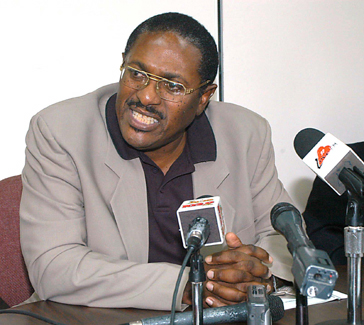 PRESS STATEMENT — Party Chairman Bradley B. Robert's in an address last Wednesday night, 10th November 2010, at the BCPOU Hall detailed the reasons why PM  Hubert Ingraham and the FNM should not sell 51% of the shares of BTC to LIME (Cable & Wireless).
Prime Minister Hubert Ingraham and the FNM held a Press Conference on Sunday 14th November 2010 at the Nassau Hilton Hotel.
During that Press Conference questions were posed from Reports regarding the sale of BTC.
Price of BTC
When asked about the price of BTC, the Prime Minister's response was that BTC'S worth as detailed by Professionals and Advisors to the Government was $400 Million.
He then made some scurrilous remarks about unprofessional evaluators and their price.
This Valuation of BTC by professionals of $400 Million implies that 51% of the shares of BTC are worth only $204 Million.
The Prime Minister is reminded that the Professionals and Advisors (Deutsche Bank) that he appointed in 1998, in 2003 valued BTC' 49% shares at $130 Million.
The PLP Government thought that was a fire sale price and subsequently terminated the process until it they could have ensured a better price for the company.
The price that the PLP left on the table in 2007 just four years after 2003, was $260 Million for 49% of BTC. That placed the total value of BTC at $530 Million in 2007.
Downsizing
Hubert Ingrham in the Press Conference yesterday stated that LIME (Cable & Wireless) wishes to downsize BTC by 30%.
Cable & Wireless has stated that they selected Jamaica as their hub because it is their leading market and because Jamaica has readily available a vast pool of talent.
BTC is a Jewel in the Caribbean
Prime Minister Ingrham yesterday stated that BTC was a jewel for the Caribbean.
Selling 51% of the shares of BTC for $204 Million to Cable & Wireless does not support this comment by the Prime Minister.
Bluewaters Ventures Ltd.
Without advancing any proof to support his claims Mr. Ingraham yesterday did a throw back to the 2002 General Elections Campaign in which he suggested that the PLP was "selling BTC to PLPs" and sought to paint a highly respectable company Bluewaters in a negative light.
The Government of The Bahamas in 2007 via its Privatization Committee negotiated with Mr. John F. Gregg who was profiled in Forbes.com as "the founder and Managing Director of Bluewaters Ventures Ltd., a private equity firm that specializes in turnarounds and investments in the media and telecommunications sectors in Europe, the U.S. and Asia. From January 2003, when he founded Bluewaters Ventures, to January 2004, Mr. Gregg acted as Chief Restructuring Officer for Cablecom GmbH, Switzerland's largest cable operator. From 1994 to January 2003, Mr. Gregg held various senior positions at NTL Inc., a publicly-traded European broadband cable operator, including serving as Chief Financial Officer and Senior Vice President from June 1999 to January 2003. In his position as Chief Financial Officer, Mr. Gregg had the primary responsibility for oversight of NTL's successful restructuring, which was commenced upon the filing of a voluntary petition for a pre-arranged joint reorganization plan under Chapter 11 of the U.S. Bankruptcy Code on May 8, 2002 and completed on January 11, 2003. Mr. Gregg holds a B.A. from Georgetown University and an M.B.A. from Harvard Business School."
Bluewaters specializes in Media and Telecommunications companies with a focus on restructuring and special situations. Bluewaters principals have over 100 cumulative years of managing global telecommunications and media businesses and have collectively managed companies with:
Combined annual revenues in excess of $20 billion,
More than 75,000 employees
Operations in over 50 countries
More than 10 million Triple Play wireline customers
Over 11 million mobile customers
Bluewaters principals have initiated, negotiated and completed over $30 billion of acquisitions and divestitures within the Media and Telecommunications industry worldwide and recently completed over $13 billion of restructurings within the European fixed line telecommunication and cable TV sectors. The team has significant experience with businesses throughout their life cycle, from start-ups, through to leading Fortune 500 companies and from restructurings to privatizations.
Conclusion
In conclusion, Prime Minister Ingrham yesterday in his Press Conference admitted:
The Value of BTC under the FNM is $130 Million less than it was under the PLP.

FNM's Valued BTC at $400 Million. Versus the PLP's value of $530 Million
The results are that the FNM proposes to sell 51% of the shares of BTC for a mere $204 Million while the PLP was selling just 49% for $260 Million.

The FNM in rejecting Bluewaters offer is throwing away $130 Million because of the FNM disastrous STOP REVIEW & CANCEL POLICY.
The FNM has paid over $2million to Bluewaters in separation cost plus legal fees
Cable & Wireless have not changed; just as they did in the other Caribbean Islands they also want to do in The Bahamas. Downsize BTC by 30%
BTC is a Jewel
This is the only deal on the table
The Bottom line is that PM Hubert Ingraham is prepared to give away $130 Million when the National Debt of the Bahamas is at the highest level in the history of the Commonwealth.
The PLP is of the view that the Bahamian people and those employed at BTC deserve better. The FNM Government in its cheap proposal with Cable and Wireless has devalued the Jewel of the Caribbean which is BTC.