Island FM Reporter denied Meet the Press access by FNM GOON
Nassau, Bahamas — While scores of Free National Movement party supporters were seated and packed at the Prime Minister's Meet the Press event at the British Colonial Hilton on Sunday afternoon, it was quite interesting to note not all members of the media were invited.
Firstly, Bahamas Press was given no official invitation by the WUTLESSS DAMN communication deputy head, Sharon Turner, nor were we made aware of the press rules we later discovered were attached to that invite.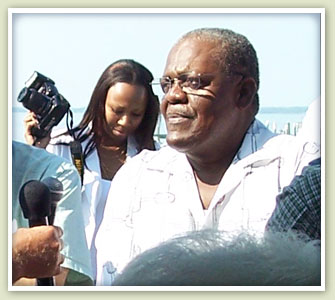 But an interesting twist happened Sunday. A representative from Island FM was disallowed to be seated with members of the "chosen" media, and was denied the right to question the Prime Minister. No explanation was given.
Island FM representative, Tammy Dean, we also know, was rejected by 'Yellow Brigade' member and travelling partner on the PM's long excursions, Sharon Turner.
Turner flatly rejected Dean's right to ask the PM questions of national importance and was not allowed to be sit with the media party. Now this is the same Turner woman who we at BP referenced before as having some wild exotic fascinations with the leader and could be seen LIVE ON TV showing her pearly gates as she filed questions to Hubert Ingraham.
She, you should note, has taken the job from a chief photographer at BIS and frequents trips with the PM. She was along with other Yellow Brigade members on his visit to China.
What was even sadder was this, the Nassau Guardian was allowed to field two reporters in the question area, while Island FM could not get one. THIS IS INCREDIBLE!
Sharon Turner should apologize to Island FM for her WICKED decision towards an official member of the press. Bahamas Press believes NO member of the press should have been unjustly treated in that exercise.
But again, SOME PEOPLE YA HAVE TO DEAL WITH FROM BIS HAVE NO DAMN SHAME!
WE NEED CHANGE!