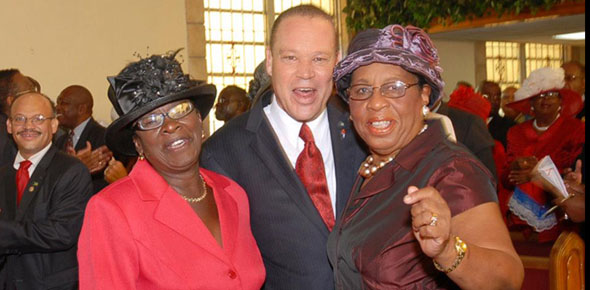 FNM 40th Anniversary Church Service Remarks by Party Leader, Prime Minister Hubert Ingraham:
VIEW PHOTO GALLERY – CLICK HERE
THE LEADER: Good Afternoon Church,
I want to thank Apostle Wallace and the church family of the Voice of Deliverance for welcoming us to worship with you as we mark a landmark anniversary in the life of our Party.
FNMs, we meet today in thanksgiving and celebration on the occasion of the 40th anniversary of the founding of the Free National Movement.
Because a two-party system is essential for a thriving parliamentary democracy, the birth, resilience, and flourishing of the Free National Movement has been critical in securing and entrenching parliamentary democracy in The Bahamas.
For this we owe a profound debt of gratitude to the Dissident Eight lead by Sir Cecil Wallace-Whitfield and including Sir Arthur Foulkes, Maurice Moore, and Warren Levarity who were followed by thousands of others including the late Sir Kendal Isaacs, Sir Orville Turnquest, Sir Geoffrey Johnstone, and Godfrey Kelly who joined them in our national movement.
Fellow FNMs:
Our 40th anniversary is a time to renew the values upon which our party was founded, including transparent, accountable and good governance.
The FNM is committed to a balance of personal and social responsibility. And, we believe that giving back and community service are at the heart of good and active citizenship. Community demands civility and civil society, shared sacrifices and shared responsibility. We see Government as a vehicle – it is not an end in itself.
This is why I call for a new era of volunteerism and giving. In order to address crime and anti-social behaviour, and to build a more peaceful culture and renew a sense of community requires faith- and community-based action as well as corporate citizenship, philanthropic efforts and individual initiative.
The FNM is steadfastly committed to equality. We seek to build a country where the content of one's character and hard work are the keys to success and national development – not pedigree or connection. This is why we have constantly sought to expand equality and protection and rights of the marginalized, the children, the elderly, and Bahamian women. We are proud that the first woman elected to the House of Assembly was an FNM.
Fellow FNMs:
In 1992 the Bahamian people elected us to office for the first time. We are proud of our record of service to the Bahaman people.
We continue to work tirelessly to put in place the policies, programmes and investments needed to safeguard our country in crime-fighting and national security, n education, in business opportunity, in employment, in health care, in social security and in youth development.
As we celebrate our legacy and renew our values, we rededicate ourselves to improving the daily quality of life and the future needs of the Bahamian people. For all that we have done and despite the considerable work ahead we remain mindful of why we are here in the first place – to give incorruptible, responsible and compassionate service to the Bahamian people.
The greatest reward for those afforded the privilege of office is whether on your watch you made a difference in improving the lives and well-being of people. This is why we roll up our sleeves, endure all the cussing and shouting, and carry on to implementation the things which benefit the Bahamas and Bahamians everywhere.
Fellow FNMs:
The torch that was lit in October 1971 became the Free National Movement. It was passed to a new generation; in time it will be passed on to yet another generation. Through the decades our torch has burned bright because our cause and ideals are right. Our record speaks for us more loudly, more visibly than any words we may utter.
Today's celebration is therefore one of gratitude. With gratitude we thank the Bahamian people for the privilege of serving. We thank them for their trust. We are privileged to serve. In honour of this privilege and trust we continue our pledge to work tirelessly to improve the lives and future of all Bahamians by ensuring good and accountable governance and trustworthy integrity in government.
FNMs, I thank you for the privilege of serving as Party Leader. And, I thank the Bahamian people for the privilege of serving as Prime Minister.
May this great FNM remain eternally vigilant in advancing The Bahamas and its people as we continue the work of transforming The Bahamas, its infrastructure, its education, its health care, its legal and justice system and its economy.
I thank you and good afternoon.