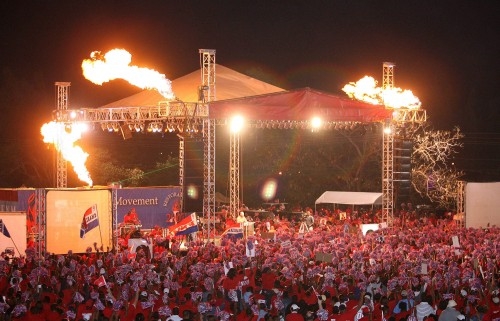 <<< There's that fire again, getting heated for a by-election in 10 months from now sources say.
A crowd at the FNM's headquarters on Mackey Street this week was told by party leader and Prime Minister Rt. Hon. Hubert Ingraham to stand battle ready as a by-election is imminent.
Since the party leader's comments, the 'straight talk express' can already be seen hitting the ground running. One source who attended the meeting told BP, "We believe we are fulfilling our mandate, though amid a difficult period around the world. There always comes a time when a political party must take the car out for a test drive, and that time is fast approaching."
A public announcement on ZNS 1540 was heard advising members of the public to register to vote if they have reached the age of 18 or relocated into a new constituency since the May 2, 2007. The radio advert caught us by surprise on last week Wednesday, however, this week's meeting at the FNM headquarters confirm that something is brewing.
Bahamas Press can now confirm from sources deep inside the FNM, that they're indeed getting organize. Letters by FNM writers are now frequently appearing in the local dailies. And anyone moving around the island would note the visible FNM ground men now speaking with personalities like 'KIKI' Knowles [The FNM's mastermind/strategist] and other ground workers at Esso One-the-Run gas stations and eateries on the island.
Another source in the party told BP, "We are obviously getting ready for something, you know that! The FNM machine is always ready. It has always been ready, and this time when we prove that we've not lost any support in this upcoming by-election we will send them fellers back to the drawing board."
Members of the PLP on the other hand are in a dogged race for its leadership. One wonders whether the party will be able to fight a by-election after a bloody race at its convention. Only time can tell.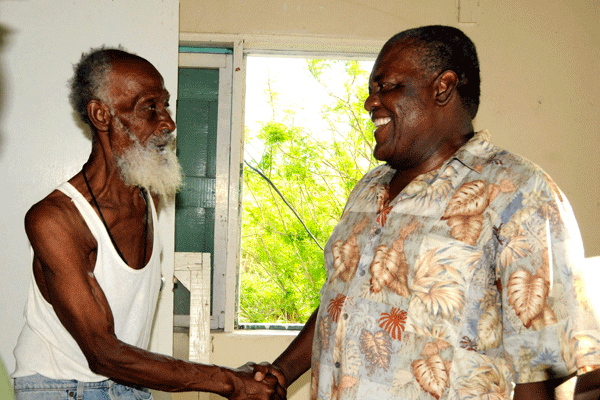 Prime Minister Hubert Ingraham on one of his recent island trips meeting with residents on the ground.