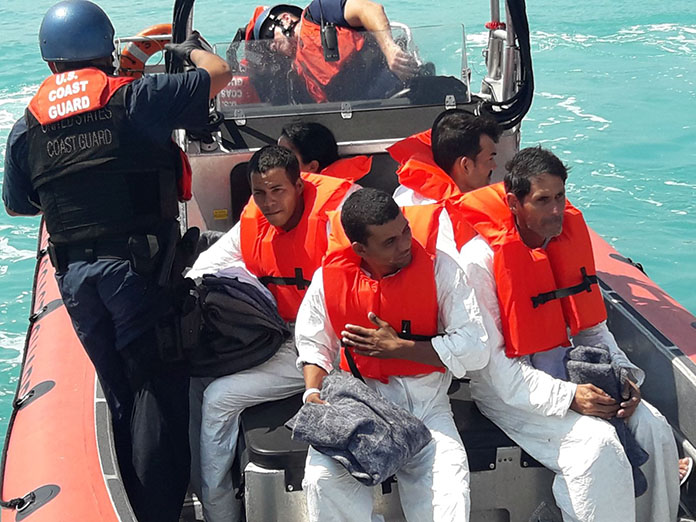 Freeport – Only BP recalls how Cuban activist stationed in Miami, Ramon Sanchez, was caught colluding with the FNM opposition in seeking to destabilize the government of the Bahamas. Sanchez had told the morning daily how he was taking his instructions from the leadership of the FNM as he began major protests in the Florida following the detention of Cubans in the Bahamas. The protest group had organized massive movements of Cuban citizens into the US and was being stopped and intercepted by the Bahamas Government back in 2013.
We believe that massive human trafficking operation is back in full swing and we call on the US authorities to take a closer look into this.
Today has been the 4th time in the last just seven days that the Bahamas Immigration Department was summoned to the Lucayan Harbour, Freeport to meet up with USCG cutter to collect another group of Cuban migrants who were unsuccessful in their plan to reach US soil after departing Cuba.
On Monday at 3pm, USCG cutter Paul Clarke delivered to Immigration officers 6 Cuban migrants interdicted at sea some 25 miles East of the Cay Sal Bank.
The group, which consisted of five adult males and one female, claimed to have departed Cuba sometime last Thursday in a rusty vessel and was heading for the United States.
After taking custody of the migrants, Immigration officers transported the migrants to Immigration headquarters for further processing and to be medically examined by staff from the Disease Surveillance Unit of the Public Hospitals Authority.
The five men and one women are expected to be flown to the capital on Tuesday to be detained at the Detention Centre until they are all repatriated to Cuba.
We at Bahamas Press believe the human trafficking business is back in full swing. How come we are only hearing about Cubans caught now?
We report yinner decide!