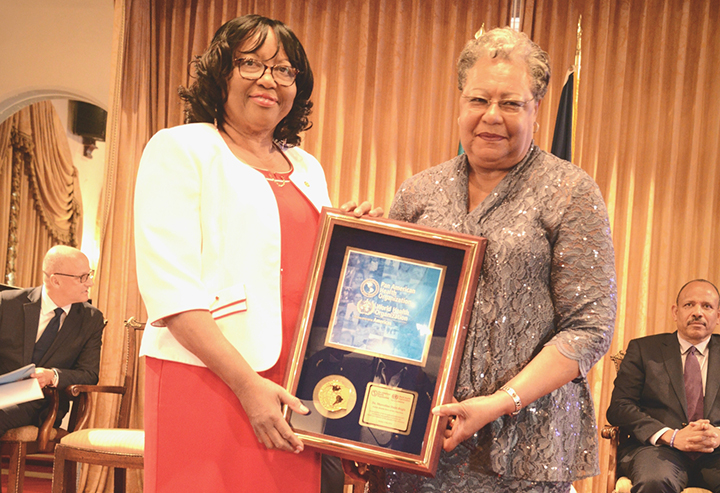 NASSAU, The Bahamas – Bahamian longtime healthcare professional, Dr. Merceline Dahl-Regis received the Public Health Hero of the Americas Award from the Pan American Health Organization (PAHO) at a ceremony at Government House, Wednesday, May 2, 2018.
Dr. Dahl-Regis former Chief Medical Officer (CMO) is the second Caribbean national and the first Caribbean woman to receive the prestigious award.
PAHO over the years has recognized Public Health Heroes for their invaluable contributions to public health in the Americas. They come from a broad spectrum of backgrounds and fields of work and share one common goal: improving the health and well-being of the peoples of the Western Hemisphere.
Prime Minister Dr. the Rt. Hon. Hubert Minnis said during her tenure as CMO, Dr. Dahl-Regis worked across technical and administrative boundaries to achieve the goals and objectives of the Ministry of Health.
He said Dr. Dah-Regis spear-headed the drafting of strategic plans for health services.
"She significantly strengthened maternal and child health care services. This included initiatives to maximize MMR immunization coverage and more emphasis on adolescent health through the establishment of the Adolescent Health Centre."
The Prime Minister said Dr. Dahl-Regis also made contributions in these areas of public health policy both regionally and globally, well-representing The Bahamas on the international stage.
He said she served on health-related committees of CARICOM and the Commonwealth of Nations.
Prime Minister explained that Dr. Dahl-Regis represented The Bahamas on numerous occasions as a delegate at conferences of PAHO and the World Health Organization (WHO). She served on the executive board of WHO.
She served as a member and chair of the Strategic Advisory Group of Experts (SAGE) and as a member of the Immunization Safety Committee.
Additionally, she has chaired the Independent Review Committee of the Global Alliance for Vaccines and Immunization (GAVI) which supports vaccine procurement through PAHO's Revolving Fund.
The PM said in 2009, in recognition of her record of service, Dr. Dahl-Regis was the recipient of the PAHO Award for Administration.
He said after her retirement as Chief Medical Officer, she worked as Senior Policy Advisor to the Minister of Health and as the Registrar of The Bahamas Medical Council.
"She continues to bring her knowledge and skills to bear on various aspects of public health and continues to mentor younger physicians."
The Director of PAHO, Dr. Clarissa Etienne said the award is not bestowed lightly.
Dr. Etienne said Dr. Dahl-Regis' list of accomplishments is long, "indeed they are historic milestones in the annals of public health in the Americas."
Dr. Dahl-Regis said her award was for all of the healthcare expert staff both national and international who toil in the field, risk or lose their lives and who often endure conflict situations, all to protect the lives of many, including children born and unborn.