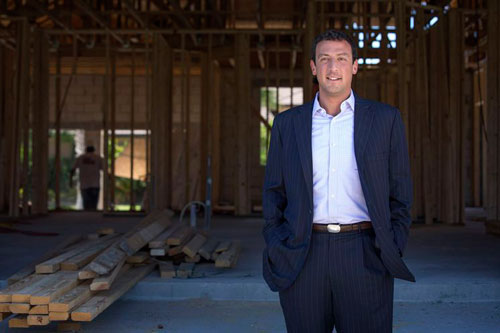 Nassau, Bahamas The Salvation Army Erin H. Gilmour School for Blind and Visually Impaired Children celebrates it's 65th Anniversary with a Dinner on September 19th, 2014 at The British Colonial Hilton.
The Salvation Army is pleased to announce Mr. Isaac Lidsky as the guest speaker. Isaac Lidsky the child TV star from the 90's teen sitcom, Saved By The Bell: The New Class, was diagnosed at the age of thirteen with retinitis pigmentosa, a rare blinding disease.
Lidsky is a Harvard graduate with degrees in computer science and applied mathematics founded an Internet marketing startup and worked in the company after its creation for a short stint before having a change of heart. Subsequently he returned to Harvard studying Law while his vision continued to fade. Upon completion of his Law degee Lsdsky had the opportunity to work as an attorney for the U.S. Justice Department and serve as the first blind law clerk for Justice Ruth Bader Ginsburg and retired Justice Sandra Day O' Conner. In addition Lidsky worked at Akin Gump Strauss Hauer & Feld in Manhattan, New York for two years.
Isaac Lidsky sees life and business through a different lens embracing his blindness and never using it as an excuse. He founded Hope for Vision, a nonprofit that has raised millions of dollars for blinding disease research. Today Isaac Lidsky, Chief Executive Officer of Orlando Decorative Concrete Construction Company based in Central Florida has been able to mitigate through the volatile housing market with a vision in mind. Lidsky's ODC Construction is on track to start more than 3,000 Florida homes and pull in $65 million in revenure. Isaac Lidsky says "I always like to be underestimated" but refuses for his blindness to deter him from any endeavor.
The Erin H. Gilmour School will host a 65th Anniversary Celebration Dinner Under The Distinguished Patronage of Chairman, Mrs. Judy V.C. Munroe O.B.E.. Isaac Lidsky will be the guest speaker during an evening of "Celebrating Our Past, Embracing Our Future". The donation cost for tickets are $65.00 per person.
All interested parties can call The Salvation Army Office at 393-2340 or email Delisa_Armbrister@car.salvationarmy.org for additional information.