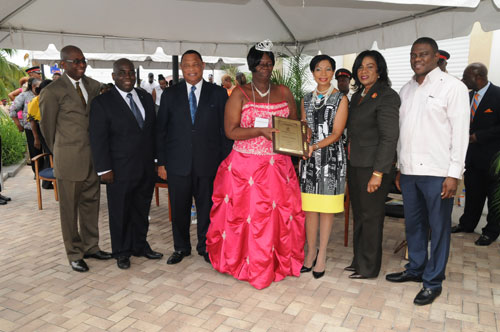 NASSAU, The Bahamas – The Straw Market Authority saluted straw vendors and wood carvers for their service to the straw and craft industries during a 2nd Annual Vendors Appreciation and Recognition ceremony, September 11, at the marketplace, downtown.
The vendors, who represented the islands of Grand Bahama, Exuma, Long Island, Andros, Cat Island and New Providence, were recognized for longstanding service, dedication and passion for their craft. Some of the honorees have served 30 years in the industry.
The honorees were: Sophia Hepburn, Mary Pratt, Larry McDonald, Edris Rolle, Verdell Cooper, Christine Moss, Eloise Smith, Winnifred Rolle, Wendy Lightbourne, Leona Dames, Naomi Smith-Rolle, Lenora Clarke, Violet Brown, Sylvia-Johnson-Clarke, Gwendolyn Newbold, Rowena Grant, Viola Taylor, Esther Thompson and Kereneva "Dynomite" Meadows.
Prime Minister the Rt. Hon. Perry Christie presented the keynote address at the ceremony, held just outside the straw market at Woodes Rogers Wharf. The Hon. Philip "Brave" Davis, Deputy Prime Minister and Minister of Works and Urban Development, and Kevin Simmons, chairman of the Straw Market Authority participated in the event. Colin Higgs, permanent secretary of the Ministry of Works and Urban Development, and Cynthia "Mother" Pratt, co-chair of Urban Renewal 2.0, were among the Government officials in attendance. Family, friends and well-wishers were also present. The Prison Pop Band provided music for the occasion.
Minister Davis admonished the vendors to create a peaceful workenvironment, showing love to fellow vendors and visitors. "Joy comes from simple and natural things: a clean environment together with honesty, integrity, respect and good manners should all be practiced to become normal and natural characteristics," he said.
Minister Davis revealed that he charged the Straw Market Authority to ensure that 90% Bahamian-made products are sold from the markets with the ultimate goal of 100 per cent. "In achieving this feat you will cause there to be an increase in the amount of straw practitioners and crafts people, the net result being more jobs created for Bahamians," said Minister Davis.
He encouraged the vendors to continue to create a positive culture within the various straw markets, raise their standards and never settle for mediocrity. He urged them to improve their product, be vibrant, motivated, invigorated, and energized.
"All vendors are encouraged to get involved and strive to get all visitors to our shores to purchase goods from our straw markets. In doing so, please adhere to the rules of the Straw Authority," said Mr. Davis.
"You are privileged to occupy a booth," said Minister Davis. "You are renting space that others are appealing for daily. Therefore, create your own ideal space with thoughtfulness and cleanliness being of paramount importance."
He called on them to dress appropriately and take personal pride and care in how they present themselves. "Your craft is your life insurance, control your destiny," he said.
Leona Dames, an honoree, said the recognition meant a lot to her. Ms. Dames said her mother was a vendor and she learned the craft as a child growing up around the market.
She has dedicated more than three decades to the industry. Throughout these years relationships have formed with many of her clients who are repeat visitors to The Bahamas. Special bonds with colleagues in the Straw market have also developed. "We're like family," she said. Ms. Dames thanked the Straw Market Authorityfor the award and both the present and former governments for their contributions to her growth and development over the years.