Former COB President sacked over plagiarism could lead COB AGAIN!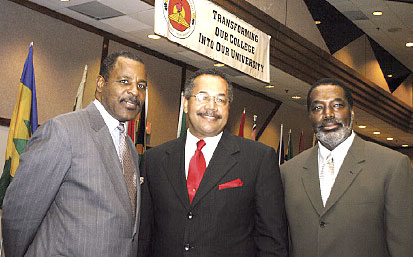 Why was Smith even considered after knowledge of the last big fallout at COB?
Nassau, Bahamas — Caribbean Artist Richie Spice gave us the song "The world is a cycle", and, following COB's announcement of its four finalists for the presidency of the college, truer worlds could never have been written.
Publishing those persons yesterday, COB announced Gregory Carey, Ph.D.; Phillip Carey, Ph.D.; Olivia Saunders, D.B.A.; Rodney Smith, Ed.D. are all in the running to be the next President.
We at Bahamas Press have always laughed at the fact that in the Bahamas we have short memory. We have forgotten why we voted Hubert Ingraham out of office. We have forgotten how NIB and Tourism were both rocked with scandal and no one has gone to jail. And we have forgotten how we rejected the removal of an apartheid law that prohibits Bahamians from doing here what even an illegal national can do: gaming.
And for this reason we have BP, because it is entities like BP who are here to shake your memory and help you, our loyal readers, put things into perspective.
Some, and I mean someone, must seriously ask themselves how did Rodney Smith, Ed.D end up back in that lineup for the college presidency?
You must wonder who are the people behind this selection.
Were they not in the Bahamas when Mr. Rodney Smith had to resign over allegations of plagiarism?
Well, in case ya weren't, read this article published in the Bahama Journal in 2005, which accounts that resignation in detail:

COB President Rodney Smith Resigns
It is reported that he had been advised to either resign or be terminated and was reportedly offered a consultancy position with COB.
Dr. Rodney Smith said in a letter to members of the college community that as of August 31, 2005 he will no longer be the President of The College of The Bahamas.

Acknowledging that he had sealed his own fate, Dr. Rodney Smith has tendered his resignation as the President of the College of The Bahamas, caving in to the pressure that resulted under a cloud of scrutiny over plagiarism.
He communicated his decision in a letter addressed to members of the College Community dated August 3, 2005. In it, Dr. Smith called it the most difficult letter that he has ever written in his life.
"It is time to move on in an attempt to remove any further negative and damaging media frenzy from the doorsteps of this great institution by The Guardian, but more specifically The Tribune and The Bahama Journal and Mr. Felix Bethel," the letter noted. "I have submitted my resignation to become effective at the end of my earned vacation period. As of August 31, 2005 I will no longer be the President of The College of The Bahamas."
The letter caught many faculty members at the college by surprise, especially supporters of Dr. Smith who had urged the scandal seekers to look elsewhere following his confession that he had used a portion of a speech given by the President of New York University in a commencement exercise without giving him proper attribution.
The admission spawned claims that Dr. Smith had committed an act of plagiarism and led the College Council to appoint a committee of persons to advise it on what course of action it should take.
The report from that committee has not yet been released, held up by Dr. Smith's hospitalization locally and then at a medical facility in Jacksonville, Florida.
In the letter, there was another acknowledgement that he had made a "terrible mistake."
"It was one mistake in the midst of many successes," the letter noted. "Yet it was sufficient to signify my doom. Unwittingly, I neglected to give credit to where credit was due – the media showed no mercy and definitely is not prepared to forgive."
While the College Council has refused to disclosed the contents of the report that was compiled, a well placed source has said that it was not in Dr. Smith's favour.
The members of the panel included: Anglican Archbishop Drexel Gomez; Bahamas Ambassador to the United Nations Dr. Paulette Bethel; Vice Chancellor Emeritus of the University of the West Indies, Professor Rex Nettleford; President-elect of John Carroll University of Cleveland, Ohio and former Vice Provost of the University of San Francisco, Father Robert Niehoff; and Retired Justice Joseph Strachan.
Another source told the Bahama Journal that he had been advised to either resign or be terminated and was reportedly offered a consultancy position with COB.
When contacted by the Journal Minister of Education Alfred Sears said he had not received any resignation letter from Dr. Smith and had allowed the statutory body – COB's Council – to handle the matter.
"Once they would have concluded the situation, they would report to me – I have a meeting with the chairman of the Council on Monday," he told the Journal. "I will be getting a full briefing once they have completed their international process of consultation."
The Journal attempted to contact College Council chairman Franklyn Wilson but was told that he was out of town.
But he had scheduled a press conference for today at 4p.m. in the college's boardroom.
In the letter to faculty members, Dr. Smith said over the past year, he has laughed with his colleagues in the enjoyment of successes and has cried in agony each time a member of the family has been lost.
"I have come to love the humanness of an institution that has been plagued by dissenters and backbiters," the letter said.
Since his fateful speech, Dr. Smith has faced calls for his resignation from various circles. He was appointed president only a year ago vowing to transform COB into the University of The Bahamas by 2007.
Some faculty members maintained that Dr. Smith had done great things for the College since he was appointed.
The main campus in Oakes Field continues to undergo a marked physical transformation.
All we at Bahamas Press needs to say is this – A WORD TO THE WISE IS SUFFICIENT!
We report yinner decide!