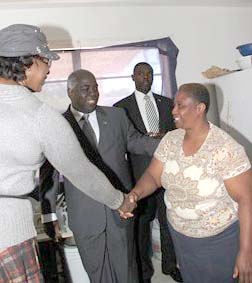 Nassau, The Bahamas – Philip Davis, Deputy Prime Minister and Minister of Works and Urban Development is satisfied with the progress of the Government's Small Home Repairs Project presently underway in areas including Bain, Grants and Ann's Town, Englerston, and Montell Heights.
Minister Davis along with Permanent Secretary Diana Lightbourne, Deputy Director Gregory Butler and Urban Renewal 2.0 Co-chairs Cynthia "Mother" Pratt and Algernon Allen and other Government officials inspected repairs to homes in Nassau, Street, Strachan's Corner and Culmersville January 23.
"The workmanship is exceptional," Minister Davis said. "It is truly moving. I'm proud that I'm a part of this exercise where we are bringing relief to both residents and workers in the community."
He explained that some living conditions of residents "do not speak well of our country".  "Policy makers often don't get to know about these things. Unfortunately it is replicated in many communities in New Providence and the Family Islands. We hope to be able to transform the lives of Bahamians. One of the good things about Urban Renewal is they tend to find these things and put them on the radar for government policy and information."
Co-chair Allen said the Urban Renewal initiative is intended to bring hope and help to the poor, disenfranchised, the elderly and disabled in urban communities while improving their quality of life and empowering them to fulfil their potentials.
"The Government has invested significantly in the Small Home Repair Project during this 2013/2014 fiscal period, affording Bahamian homeowners in the inner city needed assistance with home repairs and giving local contractors in the said communities employment through small home repairs contracts."
He announced that the Small Home Repairs Project will continue for the next three years.