Farmer, musician, politician, writer and activist passes!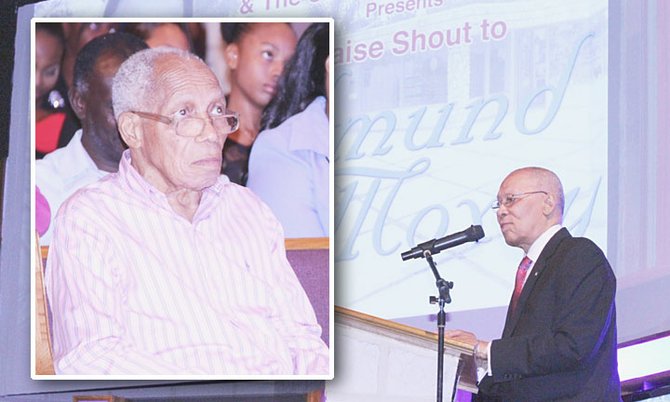 Breaking News …. Bahamas Press is reporting former MP and culturalist guru Edmund Moxey has died this morning… The man who served as Coconut Grove MP and created the famous Jumbey Village has left us. His colour life as a farmer, musician, politician, writer and activist paints a story of this Bahamian who struggled against grave adversity in his life. Today we celebrate his life in praises to God for a race well done. MAY HE REST IN PEACE! Amen…..
Mr. Edmund Moxey, the son of renowned pianist George 'God Bless' Moxey ATCL and Naomi Lockhart, a public school music teacher, was born in 1933 on Ragged Island.
Also, "you didn't have a fully equipped house until you buy an organ" (Moxey, 2004).
Dancing in the settlement was a time of great celebration, and Moxey made his debut at age fourteen playing for these dances.
At the age of 15, Moxey joined the telecommunications department as a student wireless operator, leading him to spend some time in Nassau. In 1952, at the age of 18, he was sent to work on Crooked Island. There he claims to have met some of the most musical young people ever. Boys were scarce because they had to leave the island to seek employment opportunities in the capital city of Nassau. However there were about 25 young girls with extraordinary musical talents. In addition, they all read music, says Moxey. Books like Crown and Glory, Harmony Heaven were popular American hymnals used by these young ladies. A gentleman carried out the nurturing of these musical talents by the name of Theo Cunningham according to Moxey.
Later on in 1953, Moxey was transferred to Coopers Town, Abaco, a highly religious settlement, as he recalls.
Apart from playing in the church, Moxey played at Club DeAfrica that was located on Wulff Road near Claridge Road in Nassau.
The only other club that was graced by Moxey was The Juju Tree in Fox Hill.
Other musicians that would perform and record with Ed Moxey over the years would include Rudy Pinder (conga), Chris Dean (saw), Cyril Dean (goat skin drum), Cyril Webb (goat skin drum), and John King (drums).
In 1967, Moxey decided to enter politics and made significant changes as a representative for the Coconut Grove constituency. His interest in developing the talents of the young people in his constituency prompted him to form the Coconut Grove Chorale & Folklore Troupe. Later, in 1969, in a milestone development, his troupe presented folk music and dance to an audience of primarily "grassroots" individuals, a term which did not have at the time the negative connotations that some have come to attribute.
In 1969, Moxey was trying to come up with ways to further develop appreciation for the music elements of culture in Nassau. A meeting with the Nassau Jaycees, a service organization, started the ball rolling towards the birth of a cultural community center. It is there that the question of funding came up, and the suggestion of a festival of some sorts was proposed. The "Jumbey Festival" was the name chosen because jumbey sounded like goombay and was the name given to a certain type of vegetation, which was extremely common in The Bahamas.
Ironically, jumbey leaves, also referred to as bough (pronounced bow as in curtsey) was commonly used as feed for goats, whose skin was used for drums that produced the core sounds of goombay. The festival took place on Coconut Grove Avenue for the first two years, but the putting up and tearing down of the temporary structures was too demanding according to Moxey. Two years later, the Government was then petitioned to donate land that was eventually developed and built upon. It wasn't 1971 that this project was well on the way.
Performances in music, dance and displays of artwork and local craft created excitement on the grounds of Jumbey village. Many of the artists were sought out by Moxey and featured on a regular basis at a Jumbey Village.
Serving as a sub-chairman for the cultural committee for the independence celebrations, Moxey approached schools for their input. According to Moxey, attempts were in the making to bring foreign artists for these celebrations to which he strongly objected. This production, he insisted, should be an all-Bahamian production, and so it was. A cultural pageant was staged depicting life in The Bahamas from the Arawaks straight on to independence in 1973.
According to Moxey, this wonderful dream that was realized died when the Government of the day stopped supporting his efforts in 1973. Although the reason given was that of budgetary constraints, to this day, Moxey believes otherwise, contending that the popularity gained through this venture seems to have offended some. Finally, in 1987 explosives were put to the by then derelict site to make way for the National Insurance Board office complex. This event was an extremely sad one for Moxey and even in relating the event in 2004; his deep emotion was quite evident.
Another significant contribution made by Moxey was the documenting, along with Timothy Gibson, of 50 Bahamian songs.
After 81 years on the earth – Moxey lived a full life. To his entire family we extend our deepest sympathies.
May he rest in peace. Amen.